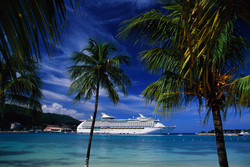 East Hartford, CT (Vocus) September 3, 2010
The late summer arrival of Hurricane Earl forced preventive measures beyond the mainland preparations of U.S. Mid-Atlantic residents securing waterfront property and coastal officials supervising visitor evacuations. At least 10 Caribbean-bound cruise ships, representing three major suppliers with more than 30,000 passengers, altered eastern Caribbean cruise itineraries to skip or reschedule ports to avoid Earl as it churned northward. As journalist Walter Winchell once described it: Mr. and Mrs. America and all the ships at sea were hearing the news.
The change of cruise itineraries presents potential financial risk to passengers who prepay for excursions and activities in ports of call being skipped by ships due to weather factors. Local sightseeing or event operators may be unable, or unwilling, to reimburse prepaid programs, especially when activities were arranged separately from the cruise operator and cancelled on short notice.
Travel Insured International includes Change of Itinerary coverage in three types of its Worldwide Trip Protector plans including the comprehensive Worldwide Trip Protector, Trip Protector Gold, or Trip Protector Lite Expanded. The coverage provides for a reimbursement of prepaid, non-refundable shore excursion or activity costs when the activity is missed due to a cruise or tour itinerary change. The coverage is for up to $200, $500 or $750 per insured passenger depending upon the type of insurance plan selected.
Other Hurricane Coverage
The coverage becomes available when the originally-planned excursion or event is not rescheduled and the change of itinerary is documented by the cruise or tour supplier. The insured needs to provide proof of prepayment for the covered activity being reimbursed. In addition to sightseeing tours, activities that could potentially be covered by Change of Itinerary include concerts, a private guide, spectator sports events, participation sports lessons or reservations, training classes, cooking displays, nature adventures, and art and cultural events.
In addition to Change of Itinerary coverage, all Travel Insured plans include Trip Cancellation and Trip Interruption coverage in case a hurricane causes complete cessation of airline service to the insured's destination for 24 hours or longer, or if the storm renders accommodations uninhabitable. When a hurricane forces insured vacationers into a mandatory evacuation, Travel Insured's comprehensive Worldwide Trip Protector and Trip Protector Gold plans can provide Trip Cancellation (if less than 50% of the total trip length remains when the evacuation ends) or Trip Interruption coverage. In each case of coverage, the insured's plan needs to have been purchased prior to the date when the hurricane was identified and named by the U.S. National Weather Service for the risk to have been unforeseen and coverage to apply.
Cancel for Any Reason
The best option for travelers wanting to avoid hurricane disruptions completely, even when a hurricane only threatens their destination but has not yet arrived, is the Cancel for Any Reason travel insurance upgrade. Available for additional premium at the time travelers purchase Worldwide Trip Protector or Trip Protector Gold, the option allows for cancellation for any reason 48 hours or more prior to scheduled departure. It can provide reimbursement of up to 75% of the insured's prepaid, nonrefundable vacation costs.
About Travel Insured International
Travel Insured International, based in E. Hartford, CT, was founded in 1994 by the foresight of insurance industry executive Peter Gehris when he acquired the travel protection division of the Travelers Insurance Company. Coverage is underwritten by Arch Insurance Company (a Missouri corporation, NAIC #11150) with executive offices located in New York, NY. Arch Insurance is rated A ("Excellent") for financial strength by the insurance rating service A.M. Best. Not all insurance products or coverage is available in all jurisdictions. Coverage is subject to actual policy language
Travel Insured International
52-S Oakland Ave.
E. Hartford, CT 06128-0568
Contact: John Stone
Media Relations Manager
1-800-243-3174 x 117
jstone(at)travelinsured(dot)com
http://www.travelinsured.com
###