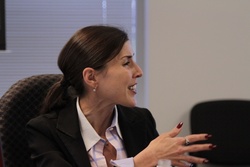 Rosemarie provides the unique combination of expertise in strategic planning and implementation, dedicated work experience and the passion to drive innovation. She is truly an asset to the Advanced Clinical team and our clients
Deerfield, IL (Vocus) September 2, 2010
Advanced Clinical, a leading provider of clinical research services, today announced the appointment of Rosemarie Truman as Executive Vice President of Solutions.
Rosemarie Truman brings 18 years of strategy experience, and is responsible for the global growth, market and brand strategy of Advanced Clinical. Core to this role is to help life sciences clients drive efficiency and effectiveness into the "business of R&D" as well as accelerate clinical trials at the lowest Total Cost of Ownership and to ensure the highest probability of success in getting drugs/devices to market.
Rosemarie brings a wealth of experience leading growth breakthrough transformations for clients. Her leading practices and solutions expertise from many industries ensures Advanced Clinical is not just using the best Life Sciences practices, but also using cross-industry codified best practices. Rosemarie is the thought leader behind Advanced Clinical's proprietary Industry Leading R&D Performance (ILRDP) framework that is proven to create positive, sustainable impact for clients.
"Rosemarie provides the unique combination of expertise in strategic planning and implementation, dedicated work experience and the passion to drive innovation. She is truly an asset to the Advanced Clinical team and our clients," said Leo Sheridan, CEO of Advanced Clinical.
"This position offers the opportunity to drive growth for Advanced Clinical and make a positive, sustainable impact on clients to help get drugs and devices to market faster for those who need them," said Rosemarie Truman. "I am proud to be part of a talented team that wants to make a difference, not just for clients and the company, but also for people who really need the products that our clients are making."
Rosemarie pursued a PhD in software engineering from Oxford University. She graduated magna cum laude from Smith College with three undergraduate degrees in mathematics, economics as well as industrial engineering and operations research.
About Advanced Clinical: Advanced Clinical provides consulting services, strategic sourcing (CRO), talent management, and technology solutions to the Life Sciences industry. With 15+ years of experience, Advanced Clinical is an established presence in the clinical research field, providing services specifically for Pharmaceutical, Biopharmaceutical, Biotechnology and Medical Device organizations. Advanced utilizes a value-based, "One Team" approach. To learn more, visit http://www.advancedclinical.com.
Contact:
Rosemarie Truman
rtruman(at)advancedclinical(dot)com
1200 Lakeside Drive
Bannockburn, IL 60015
Ph: 202-438-2208
# # #