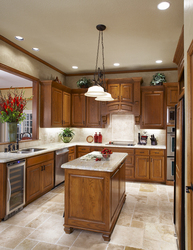 "We're proud to have accepted the awards for Best Kitchen Remodel and Best Bathroom remodel with challenges overcome using creative features designed by us," said USI President Gordon Zoellner.
Grand Prairie, TX (PRWEB) September 4, 2010
USI Remodeling won a total of 2 honors recognizing areas of unique achievement in both custom building and renovation at the 2010 Home Builders Association of Greater Dallas Awards. The Coppell kitchen remodeling and Colleyville, Springtown bath remodeling projects are of 3 early 1990's residential homes involving the total gutting of 2 master baths and the cosmetic updating of a kitchen, resulting in finalist spots in the categories of, Best Kitchen remodel under $30,000, Best Bathroom remodel between $20,000 & $35,000, and Best Bathroom remodel between $35,000 & $55,000, capturing 2 winning spots.
"The winning work showcases the flexibility of our Design/Build capabilities on every phase," said Zoellner of USI, "but it starts with a relationship and these transformations are examples of that."
Annually the HBA of Dallas draws hundreds of award entries to the non-profit trade organization whose goal is promoting safe, affordable, quality construction.
About USI
USI provides plans, design, and product selections thru teams of trade specific professional contractors, product specific vendors and showrooms. As an industry leader, USI has earned 17 awards judged on design and construction excellence, uncomplicating major renovations with affordable solutions. In 2009 the Texas Association of Builders awarded USI the Grand award as "Remodeler of the Year," representing 11,000+ members statewide.
# # #