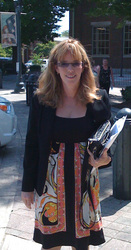 I fear the 'Good Ole Boy' network I've been battling for over a year wants to prove a point by bringing me down, I'm scared
Franklin, TN (PRWEB) September 3, 2010
Sharyn Bovat, the middle Tennessee relocation consultant assigned to manage the move of Nissan board member Carlos Tavares in spring of 2009, was arrested for criminal trespassing July 7th (Court Case # gsc3714) at the Nissan North America headquarters. Bovat alleges "The arrest was in retaliation for my whistle blowing because I told Carlos Tavares about a 'Good Ole Boy network' that she alleges dominated Nissan Human Resources after the company moved to Tennessee." Bovat's motion to change the venue for her case is based up her allegations that for over a year Nissan employees used her as a conduit to Carlos Tavares the President of Nissan North America saying "A Good Ole Boy network that dominated Nissan Human Resources is also active in the community, therefore I'm asking for justice elsewhere."
Bovat claims discrimination against women* and other problems she told Mr. Tavares about are being addressed at Nissan North America and it's clearly on the global Nissan website under the corporate governance section that changes in the Nissan Corporate Code of Conduct have been made and in effect late 2010. Bovat attributes the changes to her whistle blowing.
Unfortunately for Bovat her name became more visible to those associated with the Good Ole Boy networks and says "I do not believe I can get a fair trial in this community, due to my reputation for whistle blowing to Carlos Tavares the business leader for the communities largest employer about 'deep rooted Good Ole Boy network,' one that is strongly connected to members in local government."
For the full article about Sharyn Bovat's http://www.nissanwhistleblower.com.
*The internal statistics at Nissan show that women in management declined form 21% in California to 10% after the move to Tennessee.
CoolSprings.com interviewed Bovat after her arrest. For the complete story, visit http://www.coolsprings.com/news/nissan-whistleblower-arrested.
Other websites in reference to Sharyn Bovat
http://www.sharynbovat.com
# # #