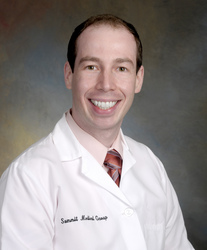 Berkeley Heights, NJ (Vocus) September 4, 2010
Ilya Kupershtein, M.D., spine surgeon, joins Summit Medical Group's Department of Neurosurgery at 1 Diamond Hill Road.
Dr. Kupershtein earned Bachelor of Science degrees in computer science and mathematics at the University of New Orleans, New Orleans, L.A. He earned his Doctor of Medicine at Louisiana State University School of Medicine, New Orleans. At the University of Medicine and Dentistry of New Jersey, Newark, Dr. Kupershtein completed his residency in orthopedics. He completed a fellowship in Spine and Scoliosis Surgery with the Hospital for Special Surgery, an affiliate of Weill Cornell Medical College, New York, N.Y. Dr. Kupershtein is a member of the American Academy of Orthopaedic Surgery, North American Spine Society, and American Medical Association.
About Summit Medical Group
Summit Medical Group (SMG) is the largest privately held multispecialty medical practice in New Jersey. SMG has pioneered information technology advances in health care with its early adoption of electronic health records and e-prescribing. With more than 200 highly qualified providers, it is a unique health care model. SMG has an award-winning customer service program, and NJBiz magazine has named it one of New Jersey's "Fifty Fastest Growing Companies." SMG treats more than 55,000 patients per month at its main campus in Berkeley Heights as well as its satellites in Berkeley Heights, Morristown, Millburn, Shorts Hills, Summit, Warren, and Westfield. As one of the East Coast's premier multispecialty groups, SMG has provided exceptional primary and specialty care since 1929. For more information, please visit http://www.summitmedicalgroup.com.
# # #