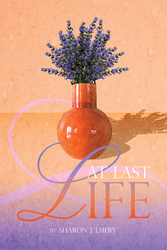 West Bloomfield, MI (Vocus) September 3, 2010
At Last Life by Sharon J. Emery has been released by Dorrance Publishing Co., Inc.
Mistletoe Morgan, called Missy, shares the story of a young girl growing up in a large, loving family of six siblings. She experiences loss at an early age but is grounded by her family, especially her beloved mother, who is her rock.
Life is good for Missy and everything she does makes her a stronger person. In her journey, she is always looking to better her life and that of the people around her. Missy's hope is to one day find love, believing she will know it when she sees it. An old friend resurfaces after many years; will he be the one she's been waiting for, or has the love of her life been with her all these years?
Sharon J. Emery is a native of Michigan and the mother of one daughter, Kimberly. She is currently retired after many years in the banking industry and now enjoys golf and vacationing with friends.
Now that the author is retired, she has finally found the time to accomplish something to which she has always aspired—writing and publishing a book. Ms. Emery is currently working on her second book: At Last Life Forever.
At Last Life is a 212-page paperback with a retail price of $21.00. The ISBN is 978-1-4349-0598-7. For more information, or to request a review copy, please go to our virtual pressroom at http://www.dorrancepressroom.com or our online bookstore at http://www.dorrancebookstore.com.
###