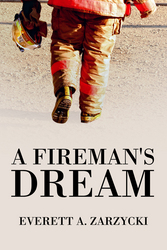 Valley Stream, NY (Vocus) September 3, 2010
A Fireman's Dream by Everett A.Zarzycki has been released by Dorrance Publishing Co., Inc.
He was an ordinary fireman, devoted to extinguishing fires and rescuing people who had met with accidents or those who were trapped in edifices engulfed by flames. She was a supermodel, endowed with the beauty every man was wishing to claim.
By a sudden twist of fate, they found themselves gazing at each other's faces, marveling at how a random strike of luck led their separate paths toward a conjunction.
A story of valor and of love that is able to bridge the gap between two vastly different worlds, A Fireman's Dream will have you reflecting on your own fortune and longing for affection. In our generation today, where people vie for more hostility and revulsion, one man's search for true love becomes an inspiring narrative of how we can surpass our weakness and achieve the kind of love that most only think of as a dream.
Everett A. Zarzycki is married and living a fine life with his wife, Roseann. He is a proud father of two vibrant girls, Elizabeth and Sandy, and works for the New York City Transit Authority. He enjoys carpentry and is a member of the Free and Accepted Masons. His fascination for firemen and the different forms and acts of bravery led him to the creation of this book.
A Fireman's Dream is an 88-page paperback with a retail price of $13.00. The ISBN is 978-1-4349-0413-3. It was published by Dorrance Publishing Co., Inc of Pittsburgh, Pennsylvania. For more information, or to request a review copy, please visit our virtual pressroom at http://www.dorrancepressroom.com or our online bookstore at http://www.dorrancebookstore.com.
###