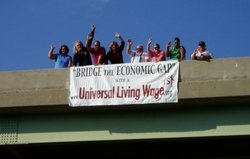 "...every American (should) have a job that pays a Living Wage." - President Barack Obama
Austin, TX (PRWEB) September 3, 2010
National/Local Day of Action "Bridge the Economic Gap Day" Businesses, Faith Based organizations, Unions and Non-Profits will get on the bridges of America and tell President Obama that they are "Ready to Act" in response to his March 2nd, 2010 call "…for every American to have a job that pays a Living Wage." The goal is to not just increase the Federal Minimum Wage, but to fix it once and for all by ensuring that a 40 hour a week worker can avoid homelessness and afford basic food, clothing and shelter wherever that work is done throughout the US.
When: Tuesday, September 7th  the day after Labor Day  morning and/or afternoon rush hours 7:30-9:00am and 4:30-6:00pm
Where: Bridges in every state in America will see http://www.UniversalLivingWage.org for City/State Bridge locations and contact information.
Why: According to the last several US Conference of Mayors' reports, the federal minimum wage fails to afford anyone basic rental housing in any major city in America. The 2000 Conference of Mayors' Report described the Federal Minimum Wage as "the most significant contributing factor of homelessness" (3.5 million people will experience homelessness again this year.)
We have found that American business has grown to rely on government subsidies to pick up that portion of the basic wage that they have failed to provide. Workers have been forced, in ever increasing numbers, to depend on food stamps, general assistance, and TANF. Congress intended these to be emergency, stop gap measures. Instead, many businesses use these government supports to meet basic payroll. A national shift is occurring away from the business responsibility of paying a "fair wage for a fair day's work" to creating an ever increasing burden on the tax payer.
The Universal Living Wage is an initiative to fix the Federal Minimum Wage with a single national formula based on existing government guidelines. It indexes the wage to the local cost of housing and ensures that anyone working 40 hours a week through a full time or multiple part time jobs can afford basic rental housing wherever that work is done throughout the entire U.S. See http://www.UniversalLivingWage.org.
After nine years, of local and national grassroots organizing, we have asked our supporting organizations to get on the bridges of America and fly the banner "Bridge the Economic Gap with a http://www.UniversalLivingWage.org. We are now in all 50 states plus Washington, DC and Puerto Rico with separate actions across America."
National Chairman, Richard R. Troxell, has stated, "We, the everyday citizens of America, declare that as a country we must 'Bridge the Economic Gap' that separates the working poor from everyone else and that we can do this with a Universal Living Wage. Conservatively, enactment will end homelessness for over one million minimum wage workers."
National Contact:
Richard Troxell, ULW National Chairman Founder & Principal Media Contact
(512) 796-4366
Neil Donovan, Executive Director National Coalition for the Homeless
(202) 462-4822
Call toll-free 1-888-484-8591
###