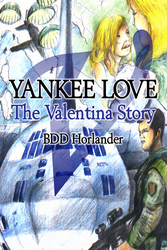 Alexandria, VA (Vocus) September 3, 2010
Yankee Love: The Valentina Story by BDD Horlander has been released by Dorrance Publishing Co., Inc.
In Yankee Love: The Valentina Story, BDD Horlander creates an intricate love story that is filled with action, romance, fateful encounters and risky covert operations. This book is written in two languages (with translations provided) for the silver screen and includes a comprehensive list of characters and a sound track.
This work tells the tale of Army Captain Jim Brogan who was orphaned as a young child, losing his father to the Vietnam War and his mother in a car accident. While serving in Italy, he meets and gets pregnant the love of his life, Maria. Infuriated, Maria's controlling mother who is well connected with the Italian authorities, has Jim thrown out of the country as a "persona non-grata." Through a series of covert operations, Jim gets Maria in the USA and marries her. They have a lovely daughter, Valentina and while assigned to Fort Bragg, North Carolina, Jim is deployed to Operation Desert Storm. After a long and troubling silence, Jim returns to Fort Bragg from the war to discover that Maria was killed in a car accident while visiting her mother in Italy. Unable to travel to Italy, Jim recruits the help of his friends to plan and execute an intricate, covert rescue operation to reunite Jim with his daughter. The operation goes terribly bad and Jim Brogan risks death to be with the only family he has ever had.
This collaboration of intricate multi-lingual (English and Italian) dialogue, descriptive stage directions, and prose allows for a complete screenplay.
Yankee Love: The Valentina Story is a 262-page paperback with a retail price of $15.00. The ISBN is 978-1-4349-0605-2. It was published by Dorrance Publishing Co., Inc of Pittsburgh, Pennsylvania. For more information, or to request a review copy, please visit our virtual pressroom at http://www.dorrancepressroom.com or our online bookstore at http://www.dorrancebookstore.com.
###