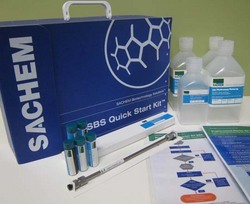 Displacement Chromatography is a powerful purification tool. Displacement mode, when optimized, enables a significantly improved approach to establishing purity and detecting impurities otherwise not visible
Austin, TX (Vocus) September 3, 2010
SACHEM Biotechnology Solutions Group announces a new line of SBS Quick Start™ protein separation and purification kits using SACHEM Expell™, Isolis™ and Propell™ displacers. This line of "all-inclusive" packages provides a convenient introduction and opportunity to evaluate displacement chromatography for different purification challenges.
"Displacement Chromatography is a powerful purification tool. Displacement mode, when optimized, enables a significantly improved approach to establishing purity and detecting impurities otherwise not visible," says Rosemary Hoffman, Director - Biotechnology Solutions Group, "Genentech recently utilized cation exchange displacement chromatography to isolate and scale up the major charge variants of a recombinant humanized IgG1 and Lonza has done work with replacing Protein A."
Until now, the challenge of displacement mode chromatography was to optimize all the parameters in order to establish a suitable displacement train. With its new product line, SACHEM addresses start-up and optimization challenges and provides an expedient evaluation method.
The inaugural SBS Quick Start™ Displacement Starter Kit contains a tested, pre-packed and optimized cation exchange column, Expell™ SP cationic displacer, all necessary binding, regeneration and charging solutions as well as a standard test protein and step-by-step instructions. Scientists follow a specific protocol to run a standard protein in displacement mode and compare their results to SACHEM's results. "The exercise helps clarify the different operating parameters, assures that scientists are successful in running the technique and that they are able to apply the concept to their application needs," says Rosemary Hoffman.
The product line will be expanded by an anion exchange displacement starter kit, a monoclonal antibody charge variant analysis kit, a mAb purification kit and respective refill kits.
Ordering details:
Shipping date: Available August 30, 2010
Delivery: 1 to 2 weeks
How to purchase: Order directly from the SACHEM store or call: (512) 421-4920.
Contact us for a 15-minute instructional webinar.
SACHEM, Inc. delivers highly pure, precise and innovative chemical solutions designed to solve the most demanding and challenging application needs. For over 50 years SACHEM has provided chemical solutions and services to customers in key markets including electronics, advanced ceramics, biotechnology, starch modification, polymers, catalysts, pharmaceutical and agricultural chemicals. Based in Austin, Texas, SACHEM's expanding worldwide operations include manufacturing and research facilities in North America, Europe and Asia with a global service network and presence spanning over 30 countries.
###