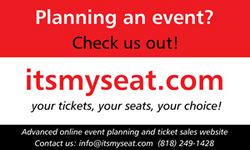 Thank you! You run a terrific business. We look forward to more work with itsmyseat.com next year. George Simpson LACHSA President, July 2010
Glendale, CA (PRWEB) September 7, 2010
itsmyseat.com, an online event-planning and ticketing website, has just introduced a flat-fee ticketing option that will give event planners the ability to publish and sell tickets for a flat fee, allowing them to save money by avoiding per-ticket charges.
The new flat-fee option will cost $49.95, for up to 250 seats, with the ability to pay for additional-seat upgrades. The only other cost is a small, credit-card merchant fee that can be paid by the organizers or passed-on to ticket buyers.
All the original itsmyseat.com services and fee structures remain intact, which means prospective clients can select the package that best meets their needs and pocketbook.
Some of the well-established and popular itsmyseat.com features and services include: interactive seating maps, bar-coded e-tickets, 24/7 reporting, secure online transactions, link tracking, discount & promotion codes, social-networking-site integration and on-site box office services, such as e-ticket scanning and patron support.
itsmyseat.com has been in business since 2004 and has grown to service events at venues that range from 40-seat community theaters to 5,000-seat amphitheaters, as well as numerous non-profit organizations' fundraising events.
With the introduction of the new, self-run, flat-fee option, itsmyseat.com hopes to expand its burgeoning client base and continue to service its repeat customers and contracted venues.
###