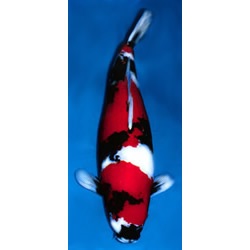 We believe that proper feeding of a high quality koi food is essential for the growth, color and overall health of the koi
Independence, MO (Vocus) September 6, 2010
"We believe that proper feeding of a high quality koi food is essential for the growth, color and overall health of the koi," states RC Moore, president of KoiPondFever.com. Many koi keepers have done all the right things in creating a koi pond large enough, with plenty of water movement and filtration to keep and grow large koi. However, many are overlooking the importance of using high quality koi food. Koi that do not grow or the colors fade are not being fed properly. A well fed koi will grow an inch a month until they mature at up to 30". Their color and patterns should become brighter and more distinct as they mature.
As the summer is coming to and end and fall just around the corner, now is the time to start feeding a color enhancing diet for Japanese koi. The cooler water temperatures tend to give koi their best colors, especially the sumi (black). When it comes to feeding koi, summer time is for growth enhancement and fall is for color enhancement. In the warm summer months when the water temperature is 85° Fahrenheit the metabolism of koi is at its peak and they need to be fed at least 3 times a day. This is the time to feed a premium or high growth food like Saki-Hikari Growth or Dainichi Growth. At the end of summer when the nights are cooling down and the water temperature is starting to drop the metabolism of koi is also starting to wind down. Koi keepers will notice a change in the appetite of koi and they can now be fed 2 times a day. This is the best time to incorporate a color enhancing formula into their diet such as Dainichi Color Intensifier or Saki-Hikari Color Enhancing Diet. Both foods are heavily concentrated with pure cultured spirulina algae. Spirulina algae is a blue green algae that is rich in protein and well known for enhancing the color of fish.
In fall to early winter koi need to be fed an easy to digest koi food Such as Dainichi All-Season or Saki-Hikari Multi Season. At a water temperature of 85° Fahrenheit it takes about 16 hours for koi to completely digest food and koi need to be fed at least 3 time a day. At a water temperature of 50° it takes about 60 hours and koi should be fed 2 – 3 times a week. When the water temperature falls below 50° Fahrenheit koi should not be fed at all. Since koi do not have stomachs, feeding to much or the wrong type of food when the water temperature is low can cause the food to rot in their intestines, which can be fatal.
One item now on sale is the DreamPond Automatic Feeder. Many koi keepers may not have time to feed their koi in the morning or during the day but still enjoy feeding their koi in the evening. The DreamPond Automatic Feeder solves this problem. It can be programmed to dispense pellet food 1 - 4 times daily. It runs on 2 C batteries and can hold up to 4 pounds of koi food. Great for people going on vacation! Each feeding interval dispenses a fixed amount of pellet food. Depending upon the number of koi in the pond, either Single Feeding (approximately 15 grams) or a Double Feeding (approximately 30 grams) can be programmed per feeding interval. When the Double Feeding option is programmed, there is a 60 second delay between each 15 gram feeding.
Proper feeding of high quality koi food means better growth, richer colors, and fewer diseases and fatalities. The higher cost of a quality koi food far out ways the cost of treating disease outbreaks or replacing koi. For more information visit KoiPondFever.com.
# # #