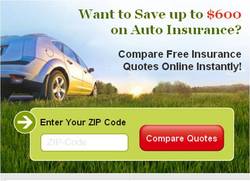 Brooklyn, NY (Vocus) September 3, 2010
With the U.S. Economic recovery slowing down over the 2nd quarter, American shoppers are now able to compare insurance quotes on AutoQuoteNow.com for their automobiles and save up to $600 to help make ends meet. The company provides almost instantaneous feedback to the consumer after zip code submission for up to 10 qualifying cheap auto insurance quotes.
One of the techniques used by AutoQuoteNow to ensure the customer obtains the most advantageous auto insurance quotes is to get the providing companies to fight over the policy query resulting in the lowest possible premium. A number of companies will also offer incentives for choosing their services over the competition further benefiting the shopper using the on-line quote request portal.
AutoQuoteNow ensures that all potential discounts the driver may be entitled to are considered during the insurance quote and comparison process. Sometimes neglected factors that result in higher premiums purchase in other mediums are discounts for an annual policy versus six month periods, safety features on the insured vehicle, and the ability to lock in rates with certain partners such as Farmers Insurance for multiple policies.
Linda from California states, "My current car insurances is $200 a month as was to increase to $240 a month for two automobiles. After comparing quotes through AutoQuoteNow, we were able to shift our policy to another established company for less than $160 a month. I am very happy with your service and have recommended you to our friends and family members."
Continuing to offer a high level of service with fast results through their on-line comparison auto insurance policy tools, AutoQuoteNow.com is confident most consumers will be able to save money on auto insurance quotes and long-term policy coverage.
About Autoquotenow.com
AutoQuoteNow is a car insurance information center that dedicates itself to providing free and on the spot cheap auto insurance from industry leading auto insurance providers. The company also provides vital information on online insurance quotes.
Contact Details:
Name: Maria Shapiro
City: Brooklyn, NY
Phone: 1-888-892-2588
Email: media(at)autoquotenow(dot)com
Website: http://www.autoquotenow.com/
###