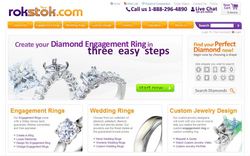 Rokstok offers more diamonds, more rings and better buying policies than any of the top three online jewelry websites.
Buffalo, NY (PRWEB) September 5, 2010
One of the fastest growing Online Jewelry Vendors, Rokstok.com has announced a completed re-design and update of their website, Rokstok.com. 3D photography animations of all of their engagement and wedding rings.
Rokstok has completed a 12 month project to re-define and streamline new online concepts to make online jewelry buying a more assuring, reliable and secure experience for the consumer. Rokstok has developed and employed a completely new shopping cart system and site style along with many new and unique features not found on other online jewelry websites.
"We spent a significant amount of time studying the shopping habits of the jewelry buyer in both an online and traditional retail environment", says Andrew Moquin, founder of Rokstok.com. "What we accomplished was to develop an online environment that mirrored the relaxed environment of sitting down with a professional jeweler in a retail store thus giving the consumer an increased comfort factor when making such an important purchase using the internet".
Rokstok has developed its own digital photograph animation equipment allowing it to photograph and stitch together 360 degree animations of the actual inventory sold online to jewelry purchasers. "Many of our larger competitors display computer generated animations that are enhanced. They do not actually display pictures of their actual inventory where as on Rokstok.com, you are seeing the actual piece of jewelry photographed in 360 degrees." A sample of this can be viewed at 360 Rings View. This factor with some traditional retail store features converted to an online version that will allow for an all around more comfortable online jewelry buying experience.
Additional, new and unique, features include a "virtual Sorting Tray" which allows shoppers to simply add items to an always visible staging area in which they can visually compare items they are interested in throughout the entire online shopping process. In turn this information can be saved for a future site visit as well as emailed to the site visitor or to friends and family as part of a wish list.
Rokstok has also reduced the account creation and check out process to just three easy steps. On many other websites the typical checkout process can take a consumer through as many as eight pages before their order is confirmed. The site re-design features additional updates including an extremely fast and simplified Diamond Search function, a streamlined, multi-option Build-A-Ring section and the largest up-to-date jewelry education section on the internet. Combined, these features offer shoppers looking to purchase jewelry online the most complete solution anywhere on the internet.
"Rokstok offers more diamonds, more rings and better buying policies than any of the top three online jewelry websites". Purchases made at Rokstok.com include Lifetime Warranty, Lifetime Buy Back, Lifetime Trade-Up, 90 Day Returns, 90 Day Price Guarantee, Free Jewelry Appraisal, Free Gift Packaging and Free Shipping.
For additional information on the new Rokstok.com website and its 3D photographic animation technologies, contact Andrew Moquin or visit http://www.rokstok.com.
###