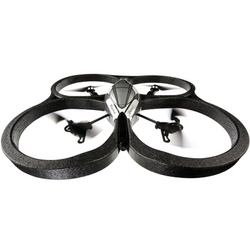 Merrimack, NH (PRWEB) September 3, 2010
Brookstone today announced that the first U.S. shipment of the Parrot AR.Drone will arrive in 12 Brookstone stores beginning Friday, September 3, 2010. Brookstone is the first U.S. bricks and mortar retailer to receive the exciting product.
The first invasion of the AR.Drones into select Brookstone stores over the Labor Day holiday enables consumers – who have enjoyed compelling YouTube videos and read numerous news stories – to see the one-of-a-kind product in person.
The 12 stores scheduled to receive the AR.Drone represent multiple Brookstone locations in the following cities:
==> New York Tri State Area (Rockefeller Center / NYC; Short Hills Mall, NJ)
==> Los Angeles (Third Street Promenade; Beverly Center; Glendale Galleria)
==> Boston Area (Copley; Burlington)
==> Houston (Houston Galleria)
==> San Francisco (San Francisco CityCenter; Valley Fair / Santa Clara)
==> Miami (Bayside; Dadeland Mall)
The Parrot AR.Drone is a unique quadricopter that uses augmented reality and is piloted using an iPod® touch, an iPhone® or an iPad™ device. The AR.Drone combines real and virtual worlds – essentially an entirely new flight and gaming experience. A front camera broadcasts and streams what the AR.Drone is seeing onto the iPod touch, iPhone or iPad screen, offering an opportunity for an enhanced flight experience.
Fans of Brookstone on Facebook have been sharing their excitement over the AR.Drone with each other. Brookstone is even offering a special AR.Drone Sweepstakes, in which one lucky person will win a Parrot AR.Drone. The contest is already underway and runs through September 17, 2010 at 11:59:59 p.m. P.T.
Additionally, the AR.Drone will invade YouTube on Sunday, Sept. 5.
About the Parrot AR.Drone Quadricopter
The Parrot AR.Drone is a one-of-a-kind quadricopter, extremely easy to fly in both indoor and outdoor settings. The AR.Drone generates its own Wi-Fi network at which you simply connect an iPod touch or iPhone device. The AR.FreeFlight application is a free app in the App Store and allows for the AR.Drone to be piloted via the iPod touch/iPhone/iPad. Once in-flight, the accelerometer of the iPod touch/iPhone/iPad device detects all of the movements and the AR.Drone will mirror all movements made by the iPod touch/iPhone/iPad while the pilot's left thumb is on the control button.
The AR.Drone uses MEMS (Micro Electro Mechanicals Systems), a three axes accelerometer, two gyrometers [one axe & two axes], one ultrasound sensor and one vertical camera to automatically stabilize once it takes off. This allows for very stable flights for even beginner pilots.
The AR.Drone combines the worlds of video gaming and radio-controlled models, enabling consumers to recreate a large number of single and multi-player video games in the real world.
The AR.Drone-Pilot Academy at http://www.ardrone.com provides multiple videos and instructions that prepare aspiring AR.Drone pilots for flight. It also connects AR.Drone fans from around the world. More information about the AR.Drone can be found at http://www.parrot.com/facebook or http://www.twitter.com/ardrone.
About Brookstone
Brookstone, Inc., is an innovative product development company and specialty retailer of unique gifts. Brookstone operates 310 stores nationwide and in Puerto Rico. Typically located in high-traffic regional shopping malls and airports, the stores feature unique and innovative consumer products. The Company also operates a Direct Marketing business that includes the Brookstone catalog and an e-commerce Web site at Brookstone.com. Fans of the Company are encouraged to Like Brookstone on Facebook.
About Parrot
Parrot, a global leader in wireless devices for mobile phones, stands on the cutting edge of innovation. The company was founded in 1994 by Henri Seydoux as part of his determination to drive the inevitable breakthrough of mobile phones into everyday life by creating high-quality, user-friendly wireless devices for easy living. Parrot has developed the most extensive range of hands-free systems on the market for cars, motorbikes and scooters, including wireless multimedia products geared towards audiovisual applications. In 2008, Parrot launched a new prestige line of high-end products bearing the hallmark of renowned artists. Parrot, headquartered in Paris, currently employs 450 people worldwide and generates 85% of its sales overseas.
http://www.parrot.com
Euronext Paris – FR0004038263 – PARRO
iPhone and iPod touch are registered trademarks of Apple Inc., registered in the U.S. and other countries. iPad is a trademark of Apple Inc. App Store is a service mark of Apple Inc.
###