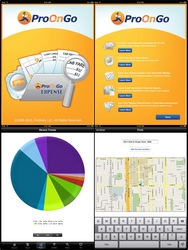 We've gone to great lengths to provide credit card integration, GPS-supported mileage tracking, and the ability to email-in receipt images for transcription – all with the goal of having ProOnGo Expense for iPad automatically fill out your expense report
Chicago, IL (PRWEB) September 3, 2010
ProOnGo LLC, the Chicago-based maker of ProOnGo Expense, has unveiled its popular expense-tracking solution for iPad. The application is available immediately for download via App Store.
The solution aims to help businesspeople eliminate the hassle of manually entering expense details for reimbursable expenses. "We've gone to great lengths to provide credit card integration, GPS-supported mileage tracking, and the ability to email-in receipt images for transcription – all with the goal of having ProOnGo Expense for iPad automatically fill out your expense report", said Phillip Leslie, CEO of ProOnGo. The company also offers integration with customized Excel spreadsheets, so that businesspeople with pre-existing expense spreadsheet templates can benefit from the full power of ProOnGo Expense while still conforming to their current processes for expense submission and approval.
Also available for Android™, BlackBerry®, iPhone™, or Windows Mobile®, ProOnGo Expense makes expense reporting effortless. The iPad version includes the following features:

Support for time, GPS-enabled mileage, and receipt-based expenses
Support for Intuit QuickBooks Pro® and QuickBooks Online®
Optional services for integrating with custom spreadsheets
Compatibility with the most popular business credit cards (https://www.proongo.com/cards)
Compatibility with numerous payroll providers including PayServ Systems
Support for syncing expenses with ProOnGo's secure web portal
ProOnGo offers a variety of free and paid services to complement ProOnGo Expense for iPad. Subscription options are available at http://www.proongo.com/subscribe.
About ProOnGo LLC
ProOnGo, a Chicago based company, makes expense reporting effortless. With ProOnGo Expense, mobile professionals create, organize, and submit their expense reports effortlessly, all from their Android™, BlackBerry®, iPhone™, iPad™, or Windows Mobile® device. Reports are available for export to Microsoft® Excel, QuickBooks® Online Edition, QuickBooks Pro®, PayServ Systems, and more. Time and mileage tracking are also included, making ProOnGo Expense a complete expense tracking solution for today's busy mobile professional.
###