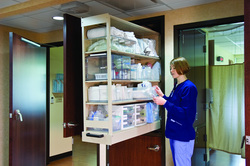 "This is quite an impressive feat as I've never seen a product win more than two categories in all our years of doing this program." Jenabeth Ferguson, Event Director for the Healthcare Facilities Symposium & Expo
Fort Atkinson, WI (PRWEB) September 14, 2010
Spacesaver Corp.'s CoreSTOR™ patient server took home awards today at the 2010 Healthcare Facilities Symposium & Expo in three different categories including: Architects Choice, Most Innovative, and Best in Show.
Jenabeth Ferguson, Event Director for the Healthcare Facilities Symposium & Expo stated, "This is quite an impressive feat as I've never seen a product win more than two categories in all our years of doing this program."
The Healthcare Facilities Symposium holds the annual expo so that elements of healthcare facility design teams can come together and collaborate to exchange ideas. During the expo, which has been regularly held since 1987, Symposium Distinction Awards are given to companies who create innovative products that facilitate remarkable improvements to the healthcare design industry.
The CoreSTOR product is a storage unit designed for healthcare facilities to put the most frequently used supplies for patient care only steps away from the bedside. It builds a decentralized nurse station for each patient's room, reduces traffic through the patient room, and optimizes floor plans and room design. In developing the CoreSTOR storage system, Spacesaver achieved its goal of enabling nurses to "go the distance" for patients, not for supplies.
In addition to receiving awards at the 2010 HealthCare Facilities Symposium & Expo, the CoreSTOR storage system has captured the attention of main-stream news media, appearing on Fox News. Footage of the system provides a close look at the direct impact it has on a hospital operated by ThedaCare, in Appleton, WI. The video can be viewed at: http://www.youtube.com/watch?v=tGd0cEif-vY.
As a result of incorporating the CoreSTOR unit into ThedaCare, this healthcare system has helped reduced unproductive "hunting and gathering" time an average of two point five hours per twelve hour shift. And nurses and medical staff have been able to locate 85 percent of the most frequently used, everyday items inside patients' rooms, increasing the amount of time nurses spend with patients, which has lead to a progressive and enhanced quality of care. As more healthcare systems implement the CoreSTOR patient server into their facilities, a streamlined process is being created for a comfortable work environment and most importantly, improved patient outcomes.
About Spacesaver
Spacesaver Corporation is the world's leading manufacturer of high-density mobile storage and filing systems, as well as steel shelving and related accessories. Since 1972, Spacesaver has successfully produced storage solutions for education, government-military, healthcare, museum, and public safety and industrial applications. A division of KI, Green Bay, Wis., Spacesaver is ISO 9001:2008 certified and headquartered in Fort Atkinson, Wis. Sales, installation and service are provided by The Spacesaver Group of independent distributors.