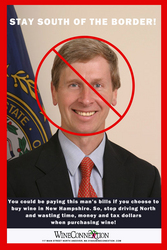 The same purchases across the border are less expensive at our store even with the Massachusetts sales tax. So, not only are Massachusetts residents wasting money, gas and time, they're throwing away tax dollars that help in their home state
Boston, MA (PRWEB) September 7, 2010
"I guess we just got fed up with everyone wasting their money across the border," said Tina Messina, Business Manager and Co-Founder of the Wine Connextion in North Andover, MA as she stuffed a promotional button with a crossed out picture of New Hampshire Governor John Lynch into a customer's bag. The Wine Connextion, a unique wine shop concept opened by the brother and sister team of Sam and Tina Messina in October of 2009, offers customers extremely low-priced, high-quality wines by following market trends. The Wine Connextion prices not only rival/beat their Massachusetts-based competitors, but beats wine stores across the border into New Hampshire even with the lure of tax free shopping.
The store recently launched an awareness campaign to stop Massachusetts residents' pilgrimage across the border to purchase wine. "The same purchases across the border are less expensive at our store even with the Massachusetts sales tax. So, not only are Massachusetts residents wasting money, gas and time, they're throwing away tax dollars that help in their home state," said Sam Messina, Wine Director and Co-Founder of the Wine Connextion.
The Messinas launched their awareness campaign September 1, 2010 with promotional posters and buttons with crossed out pictures of the Governor of New Hampshire, John Lynch on them. Customers have been buzzing about the campaign asking "Why?" and the stock reply is "Do you want to pay for the Governor's bills?...Because you are if you buy wine across the border."
The Messinas say the campaign is all in good fun and they have no personal vendetta against the Governor; but feel it is a great way to get the word out that Massachusetts residents can save money even while paying sales taxes that go to their home state. "We don't have a problem with Governor Lynch, but we're not going to let Massachusetts dollars flow over the border for wine purchases anymore. We're going to get the word out. In fact, we'll stop the campaign if Governor Lynch comes down and buys a bottle of wine with some New Hampshire money," said the Messinas.
Until that day comes the Messinas will continue their campaign stating that "skywriting might be next" to get the word out.
The Wine Connextion is located at 117 Main Street in North Andover, MA and hours of operation are Monday - Friday: 10am - 7pm, Saturday: 9am - 7pm and Sunday: 12pm - 6pm. So in the words of the Messinas, "Stop driving north and wasting time, money and tax dollars when purchasing wine!"
###