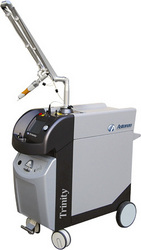 Laser tattoo removal is the next big cosmetic laser treatment. Our laser training program helps clients take advantage of this booming market.
Houston, TX (PRWEB) September 4, 2010
New Look Laser College's courses offer clients of both medical and non-medical backgrounds the opportunity to learn how to safely and effectively perform tattoo removal in a hands-on and practical course. The next laser training course is September 17-19, 2010 in Houston, Texas and the November course is November 19-21, 2010. A London laser tattoo removal training course will also be held in November in the United Kingdom.
Laser tattoo removal is one of the fastest growing cosmetic procedures in the United States, Canada, Australia, and the United Kingdom, with the demand for the procedure growing every year as "tattoo regret" replaces "getting inked" as the more popular trend.
The demand for the service has led to the opening of tattoo removal clinics across North America that charge $150-$800 per session for a treatment that takes only a few minutes and requires 5 to 10 sessions to remove a tattoo. Physicians and other health care professionals are adding the treatment to increase profitability, as are tattoo shops and laser spas that want to expand their service offering.
The tattoo removal training program offered by New Look Laser College includes all elements necessary to be successful in setting up a tattoo removal business. With expert instruction from two of the industry's most successful practitioners and business leaders, clients will learn how to brand, market, and operate a tattoo removal clinic, whether as a stand-alone business, in a medical practice, in a laser spa, or in a tattoo shop. As owners of a successful chain of tattoo removal clinics, lead instructors Ryan N. Lambert and Lynette K. Kennedy, FNP-C are able to offer entrepreneurs and medical practitioners insight on how to achieve maximum revenue and profitability from a tattoo removal business.
The laser tattoo removal training course also includes a strong-hands-on component with dozens of model patients and the opportunity for extensive practice with q-switched lasers such as the Astanza Trinity laser and other leading tattoo removal lasers. Medical laser training clients will learn how to answer common patient questions about tattoo removal in a consultation, how to perform treatments on many types of tattoos, and how to educate patients on aftercare and common side effects from laser removal treatments.
Additionally, New Look Laser College's tattoo removal training course includes didactic instruction that provides the conceptual background on the procedure. The program includes practical lectures on laser physics, laser-skin interaction, skin & dermatology, the history of tattoos and tattoo removal, and many other subjects. Training clients will look "under the hood" of tattoo removal lasers and learn how to evaluate manufacturer specifications, understand how to maintain and care for their q-switched laser systems, and have access to discounted pricing for some leading tattoo removal lasers.
To learn more about New Look Laser College's laser tattoo removal training programs, please contact Ms. Tracie Hall, program administrator, at (713) 783-2000 or visit http://www.NewLookLaserCollege.com. New Look Laser College is located in the heart of the Houston Galleria area at 1770 Saint James Place Suite 105 Houston TX 77056.
Key instructors for New Look Laser College include:
Ryan N. Lambert is the Director of New Look Laser Consulting, Director of New Look Laser College, and owner of New Look Laser Tattoo Removal.
As the co-founder of New Look Laser Tattoo Removal and former owner of numerous other medical clinics, Ryan is one of the leading creators of innovative health care businesses in the United States.
His multi-million dollar companies have employed dozens of people and his work in laser tattoo removal and laser tattoo removal training have been featured recently on CNN, MTV, Telemundo, and numerous other television and print media. His education includes a masters in public policy program at Harvard's John F. Kennedy School of Government and graduating Phi Beta Kappa from the University of Texas at Austin. He worked at the United States Department of Justice and as a management consultant to Fortune 500 medical and pharmaceutical companies before setting up several successful medical chains.
Lynette K. Kennedy, BS, MSN, FNP-C is a family nurse practitioner, certified laser technician, laser safety officer, Chief Instructor at New Look Laser College, and Director of Clinical Training at New Look Laser Consulting.
Lynette Kennedy is one of the most experience laser tattoo removal practitioners in the world, having treated thousands of patients and completed tens of thousands of laser treatments. She has also trained hundreds of practitioners, including plastic surgeons, dermatologists, physicians in many specialties, NPs/PAs, nurses, medical assistants, technicians, tattoo artists, and non-medical entrepreneurs.
Her experience with tattoo removal lasers includes virtually every laser on the market in the US and Europe. She has received local and national attention for her use of Nd:YAG lasers and Ruby lasers for tattoo removal, including appearances on radio, television, and in print. Her work in laser tattoo removal and tattoo removal training has been featured recently on MTV, CNN, Nurse Week Magazine, the Houston Chronicle, and many other sources.
Her education includes a masters degree in nursing from the prestigious Massachusetts General Hospital Institute of Health Professions in Boston. This Harvard-affiliated program prepared her to practice as a nurse practitioner with the ability to treat patients in a variety of fields from oncology to allergy to cosmetic laser procedures. Her undergraduate program from University of California at Davis focused on genetics, physics, and business management.
To media or potential clients that wish to contact laser tattoo removal industry experts Ryan N. Lambert or Lynette K. Kennedy, please contact New Look Laser College at (713) 783-2000 or email Info(at)NewLookLaserCollege(dot)com
###