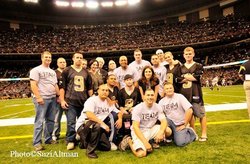 It's been a thrill to watch the progress these warriors have made toward recovery through this program. The camaraderie, support and motivation they've given each other over the last 10 weeks has been life-changing for many of them
Leavenworth, KS (Vocus) September 3, 2010
The excitement in the room was palpable, as 21 wounded warriors—including Army veteran J. R. Martinez, actor in Emmy-Award-winning drama "All My Children"—gathered at the New Orleans Marriott on August 21 to perform the last workout of Rehabbing with the Troops' inaugural season.
Sponsored by Armed Forces Insurance (AFI, http://www.afi.org), the 10-week rehabilitation program culminated with the final workout and a trip to the New Orleans Saints' preseason home opening game at the Louisiana Superdome, where the warriors were honored with an on-field tribute from the Saints prior to the game and had the opportunity to meet Saints players after watching the pre-game warm-up. The program was developed by Pro vs. G.I. Joe, in partnership with the United Service Organizations (USO) and Wounded Warrior Project (WWP).
"It's been a thrill to watch the progress these warriors have made toward recovery through this program. The camaraderie, support and motivation they've given each other over the last 10 weeks has been life-changing for many of them," said Col. Tom Dials (U.S. Army, Ret.), chairman of Armed Forces Insurance. "We are honored to recognize the sacrifices these warriors and their families have made, and we're proud to support their recovery."
Season One of the program began June 10 at the Wounded Warrior Project TRACK facility in Jacksonville, Fla., where the wounded warriors—some from Walter Reed Army Medical Center in Washington, D.C.—gathered to participate in the first workout, an interactive rehabilitation session. Wounded warriors and New Orleans Saints team members gathered in front of flat screen televisions provided by Best Buy to perform the rehabilitative exercises using a Nintendo Wii game console, accessories and webcam. Pro vs. GI Joe partnered with the Wounded Warrior Project to develop custom workouts using specific exercises within the EA Sports Active title. Throughout the 10 weeks of the program, individual warriors participated in multiple rehabilitation sessions per week at home, chronicling their journey on the Wounded Warrior Arena website (http://www.woundedwarriorarena.org), Twitter and Facebook.
At the final workout on August 21, wounded warrior and Army soldier Juan Alcivar recruited many of the spectators—including sponsors, USO and ESPN staff, as well as local television news anchor LaTonya Norton—to join in the Heavy Bag Challenge, in which participants put on weighted Wii fitness gloves to participate in a sustained punching bag workout. After the workout, the warriors were honored with an AFI-sponsored luncheon to recognize their achievements throughout Season One of the program.
"This program has given these veterans an opportunity to recover in a special way that isn't available anywhere else," said Greg Zinone, founder, Pro vs. G.I. Joe and creator of the Rehabbing with the Troops program. "We're grateful that with the help of the New Orleans Saints, Armed Forces Insurance and modern technology, we've been able to give it to them."
Martinez, program spokesperson and an Army veteran who suffered severe burns to more than 40 percent of his body while serving as an infantryman in Iraq, said that while he still has regret and anger, those days are fewer in number now. "Our injuries will never limit us as long as we believe in ourselves and support each other," he said. "Rehabbing with the Troops provides the motivation we all need, that we can be anything we want to be."
The "Rehabbing with the Troops" journey isn't over for wounded warriors from Season One. The end is just the beginning for many who will return for Season Two as "Rehabbing with the Troops Veterans." They'll serve as team captains and mentors to the new wounded warriors joining the program, building camaraderie and setting expectations for performance as well as continuing their own rehabilitation.
"I get up every day, and Rehabbing with the Troops is my job," said wounded warrior and Air Force veteran Wayne "Tom" Marcum, in a tearful description of how the program has affected his life. "It's given me a chance to rebuild my life, learn how to communicate again with my wife and sons, and become friends with warriors who face the same struggles that I do."
Marcum looks forward to returning as a coach for Season Two which launches on Veteran's Day, November 11, with the San Diego Chargers and Washington Redskins and concludes at the Armed Forces Bowl on December 30 where Armed Forces Insurance will serve as the Official Insurance Partner.
About Armed Forces Insurance
AFI was founded in 1887 by military leaders with a single mission: to protect the property of those who protect our nation. The company provides premium quality, competitively priced property and casualty insurance to active duty, former and retired military as well as active and retired Department of Defense employees throughout the United States and overseas. Headquartered in Leavenworth, Kansas, AFI understands that its subscribers have unique circumstances and insurance needs, enabling the company to offer a level of personalized service that's unequaled in the industry. For more information, visit http://www.afi.org or call 1-800-495-8234.
About Pro vs. G.I. Joe
Headquartered in Fairfax, Va., Pro vs. GI Joe is a nonprofit organization that provides troops serving all over the world with opportunities to take on professional athletes or celebrities in head-to-head video game competitions, both online and in person. The organization uses the best of today's modern technology—including webcams, PlayStation, Xbox Live and the Nintendo Wii—to make virtual connections across the miles. By reuniting family members of the participating troops via webcam during the event, Pro vs. G.I. Joe also connects families separated by military service. For more information, visit http://www.prosvsgijoes.org.
About Wounded Warrior Project
The mission of the Wounded Warrior Project is to honor and empower wounded warriors. Its purpose is to raise awareness and to enlist the public's aid for the needs of severely injured service members, to help severely injured men and women aid and assist each other, and to provide unique, direct programs and services to meet their needs. WWP is a national, nonpartisan organization headquartered in Jacksonville, Fla. To get involved and learn more, visit http://www.woundedwarriorproject.org.
About the USO
The USO (United Service Organizations) is a private, nonprofit organization lifting the spirits of America's troops and their families. The USO provides a touch of home through centers at airports and military bases around the world, top-quality entertainment and innovative programs and services tailored to meet troop needs. The organization also provides critical support to those who need it most, including forward-deployed troops and their families, wounded warriors and their families, and the families of the fallen. Relying on the generosity of individual donors and corporate sponsors, the USO strives to deliver maximum benefit for troops and their families from every donor dollar. For more information, please visit http://www.uso.org.
Image Cutlines:
Picture One: Wounded Warriors receive an on-field tribute at the New Orleans Saints preseason home opening game Saturday, August 21, 2010.
Picture Two: Col. Tom Dials (U.S. Army, Ret.), chairman of Armed Forces Insurance, and Wounded Warrior Juan "AC" Alcivar perform the final Heavy Bag Challenge workout together.
###