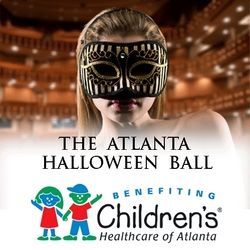 "The masquerade party theme provides a unique opportunity for folks to dress up, look good, and enjoy an upscale, incredibly entertaining event in a fantastic ballroom at the Fox," said Bryan Colson, one of the event organizers."Ghouls and goblins are fun
Atlanta, GA (PRWEB) September 5, 2010
The Atlanta Halloween Ball, Atlanta's Biggest Upscale Halloween Party will take place Saturday, Oct.30, 2010 at the Fabulous Fox Theatre in Atlanta. The ball kicks off at 8 p.m. and will benefit Children's Healthcare of Atlanta, one of the nation's leading not-for-profit pediatric healthcare systems.
The Atlanta Halloween Ball is an upscale, formal masquerade ball, offering guests the ambiance of the Fox's Egyptian Ballroom, live music, professional dancers, comedy and magic. Guests can enjoy cocktails at the open bar, relax and enjoy professional dancing from the comfort of reserved white-linen tables, and dance the night away to live dance tunes.
The Entertainment for the Atlanta Halloween Party will be headlined by the Prudentials, who bring an electric presence to the stage with the sounds of swing, big band, rock and roll, and R&B.
Dancing With the Stars has nothing on the dancing professionals from the Atlanta Arthur Murray School of Dance who will perform several dances to the live party music in full costume.
As emcee, Erick Olson of America's Got Talent will blend comedy and magic onstage and dazzle the crowd with magic tricks throughout the night.
"The masquerade party theme provides a unique opportunity for folks to dress up, look good, and enjoy an upscale, incredibly entertaining event in a fantastic ballroom at the Fox," said Bryan Colson, one of the event organizers."Ghouls and goblins are fun, but the Ball gives people a chance to 'put on the ritz'and have an amazing night out, while also raising money for patients at Children's Healthcare of Atlanta."
The event will also feature a best mask competion, in which the couple with the best mask ensemble will win a cruise vacation for two. Suggested attire is gowns for women and tuxedos or suits for men.
Another highlight of the Halloween event will be a silent auction featuring jewelry, travel, sports items, and luxury items. All proceeds from the silent auction will benefit Children's Healthcare of Atlanta.
Tickets to The 2010 Atlanta Halloween Ball are $125 through Sept.30, 2010 and $145 beginning Oct.1, 2010. Ten-person tables can be reserved for $1,250 ($1,450 beginning Oct.1, 2010) and four-person balcony tables for $500 ($580 beginning Oct.1, 2010). All tickets include admission and open bar. Tickets must be purchased in advance.
For more information about Atlanta's Best Halloween Party or to reserve tickets, visit http://www.AtlantaHalloweenBall.com or call 877-833-6170.
About Children's Healthcare of Atlanta:
Children's Healthcare of Atlanta, a not-for-profit organization, is committed to enhancing the lives of children through excellence in patient care, research and education. Managing more than half a million patient visits annually at three hospitals and 16 neighborhood locations, Children's is one of the largest clinical care providers for children in the country. Children's offers access to more than 30 pediatric specialties and is ranked among the top children's hospitals by Parents magazine and U.S. News & World Report. With generous philanthropic and volunteer support, Children's has made an impact in the lives of children in Georgia, the United States and throughout the world. Visit choa.org for more information.
About Atlanta's Fabulous Fox Theatre:
The Fabulous Fox Theatre is one of Atlanta's premiere venues for live entertainment, events and parties. Its 4,678 seat theatre is booked for more than 300 events annually, featuring Broadway, rock and comedy performances. In December 2009, Billboard Magazine ranked the Fox Theatre in Atlanta as "The No. 1 non-residency venue worldwide for the decade (5,000 seats or less)."
###