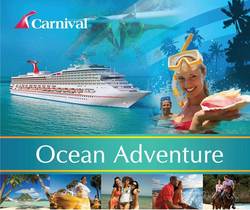 With Odenza's Ocean Adventure program, businesses can send their customers on a tropical vacation, as each cruise certificate entitles two people to a 5-day Carnival Cruise.
San Diego, CA (PRWEB) September 7, 2010
This year, Odenza is marking its 12th anniversary with a re-launch of its most significant product, the Ocean Adventure program. When all is said and done, Odenza has introduced to the market the most attractive cruise marketing promotions for companies that are serious about generating store traffic and fueling revenue growth. Cruises are known to be attractive to a widespread consumer audience due to the appealing nature of its vast offerings.
With Odenza's Ocean Adventure program, businesses can send their customers on a tropical vacation, as each cruise certificate entitles two people to a five-day Carnival Cruise to the Caribbean or Bahamas. Food and entertainment are included in the cruise with no additional charges.
The Ocean Adventure brochure won numerous awards from the Gallery of Superb Printing Awards in the past. The new design was recently unveiled at Odenza's head office in Burnaby, British Columbia, Canada. Odenza was recognized for creating products that best exemplify the craft, art and science of graphic communications.
The company has also been recognized by Carnival Cruise Lines "Pinnacle Club", which is another reason why the Ocean Adventure product plays a significant role in Odenza's success. The "Pinnacle Club" program was created by Carnival Cruise Lines to acknowledge those high-volume travel agencies that meet a certain sales criteria and exhibit excellence in promoting and selling the "Fun Ship" cruise experience. The Ocean Adventure program really demonstrates the support Odenza receives from the entire staff and management team at Carnival Cruise Lines.
The Ocean Adventure brochure was produced specifically for Resort Developer tour generation programs and Retail point of purchase programs. Products like these are the proof behind the promise that travel incentives are one of the most powerful methods of attracting new business, retaining existing business and enhancing product awareness. Odenza will continue to help its customers open doors to new business opportunities through their high quality products.
About Odenza Marketing Group Inc.
Odenza provides quality marketing solutions that give our select clients a competitive edge in their market. Odenza has been providing incentive travel products to companies for their promotions since 1998. Our marketing and advertising support team provides you with everything you need to make your promotion a success. Odenza is also a three-time recipient of Carnival Cruise Lines' "Pinnacle Club" award for demonstrating exceptional creativity in sales and marketing techniques. We are members of the New Car Dealers Association, the American Resort Development Association and the International Promotional Products Association. Our in-house travel agency is staffed by certified and experienced travel agents who work directly with your customers to book their vacations. We have direct partnerships with major airlines, cruise lines, hotels and resorts worldwide.
For more information please visit odenza.com or call 1-866-883-2968.
###