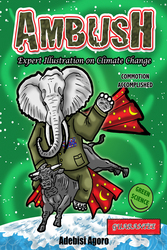 Washington, DC (Vocus) September 4, 2010
Ambush by Adebisi Agoro has been released by Dorrance Publishing Co., Inc.
Ambush is an Animated critique of Big Oil, George W. Bush, and his Global Republican Administration's attempt to drill for Oil, Natural Gas and Mineral Resources in the Arctic National Wildlife Refuge, Wyoming Ute and Shoshones National Wildlife Refuge, the Florida Everglades, South America and Africa. It begins in a fictional world, three millennia into the future, where life on Earth looks grim. Humans have died out, leaving the animal kingdom to suffer the damage caused by over population, pollution, and poor usage of natural resources. The remaining species on the planet must endure the wrath of their tyrannical leader, King Tomoil Bull. Tom Bull oppresses his subjects and destroys what remains of the natural environment as he seeks out an endless supply of crude oil, Natural Gas and Mineral Resources. Ambush serves as a cautionary story to us all, showing how the king's greedy crusade eventually brings him to his deserving end.
Following this fictional tale, Agoro includes the Scientific Report of Dr. James E. Hanson, Ph.D., an Expert on Global warming, to demonstrate the reality and relevance of Climate Change in our everyday lives. Hanson's clear and factual presentation of information explains the current Environmental situation, the science behind it, and why we must take immediate action to prevent future crises, such as those faced by King Tomoil Bull and the Animal Kingdom.
Clean Energy Solutions? Visit Sierra Club at http://www.sierraclub.org/energy/
Adebisi Agoro was born in Ibadan, Nigeria. He has lived in Washington, D.C., for the past thirty years and is the father of five children. He received a Bachelor's degree in Accounting from Wilberforce University, Xenia, Ohio, and now works in the Agricultural business as an Accountant/Author for Dairy Cow World, Inc.
Agoro is President/CEO of Disabled American Transit Corporation and member of National Wildlife Federation. He holds a particularly strong interest in Environmental issues such as Energy Efficient Ecology, Bovine Genetic Applied Agricultural Research, Organic Food Science and Sustainable Farming in Sub-Sahara Africa. Agoro's passion for Environmental concerns and inspiration to write this book were sparked by the 26th President Theodore Roosevelt's Bull Moose Party of 1912 and the Naturalist Antiquities Act of 1906.
Ambush is an 84-page paperback with a retail price of $19.00. The ISBN is 978-0-8059-7810-0. It was published by Dorrance Publishing Co., Inc of Pittsburgh, Pennsylvania. For more information, or to request a review copy, please go to our virtual pressroom at http://www.dorrancepressroom.com or our online bookstore at http://www.dorrancebookstore.com.
###