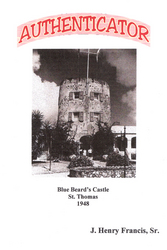 Without a base well founded
(Vocus) September 4, 2010
Authenticator by J. Henry Francis, Sr. has been released by Dorrance Publishing Co., Inc.
Here's a fast, easy-to-read social and political history of the Virgin Islands, by a native Islander who deeply loves his land.
It is also a testament to the authenticity of the documents, inscriptions, and artifacts of the past—and the writer has been completely free to express his own opinions.
Although he has traveled the world in his ninety-one years (North and South America as well as the Caribbean and the European centers of civilization's rise), J. Henry Francis, Sr., always returns to the land of his birth, the Virgin Islands. "Without a base well founded," he says, "a building will fall, and all will be lost." But "I believe there is still a chance to turn the cycle around. If someone of this generation can take a little time out to say to the people of this world, there is still beauty to behold. "If only we reconcile."
Authenticator is a 50-page paperback with a retail price of $9.00. The ISBN is 978-1-4348-0672-4. It was published by Dorrance Publishing Co., Inc of Pittsburgh, Pennsylvania. For more information, or to request a review copy, please go to our virtual pressroom at http://www.dorrancepressroom.com or our online bookstore at http://www.dorrancebookstore.com.
###