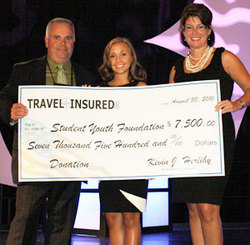 The Voice of Student & Youth Travel ®
E. Hartford, CT (Vocus) September 7, 2010
Travel Insured international capped its participation in the 2010 Student Youth Travel Association (SYTA) "Discover Gold" Conference in Sacramento on August 30 by donating a gift of $7,500 to the SYTA Youth Foundation, SYTA's philanthropic sister organization. The SYTA Youth Foundation provides financial assistance and travel experience programs that impact the lives of the next generation of global citizens. SYTA is the non-profit trade association comprised of travel agent, tour operator and travel supplier members. Known as "The Voice of Student & Youth Travel ®," SYTA works to foster integrity and professionalism among travel providers serving the student and youth group travel markets.
Kevin Herlihy, Travel Insured's National Accounts Manager, completed the first-year of his three-year term as a member of the SYF Board of Trustees at the Sacramento conference. Herlihy presented the check at a SYTA Youth Foundation breakfast at the SYTA conference to SYF board chairperson Kasie Smith, who is the Co-Founder and President of Serendipity Publishing, based in Grand Rapids, MI. Representing SYTA youth in the donation presentation was Madelynne Wager, a committee member of the Michigan Community Foundations' Youth Project (MCFYP) and the former Miss Michigan Outstanding Teen for 2007.
The 2010 Travel Insured donation was a portion of the bookings for student group travel insurance received from SYTA members during the 2009-2010 academic and youth travel year. The 2010 donation brought the total Travel Insured International contribution in 2009 and 2010 to SYF programs to $14,000.
"We are proud at Travel Insured to support the SYTA Youth Foundation because it gives many deserving students the opportunity to experience the enrichment of travel that will, hopefully, inspire many travels in their adult years, and even some future careers in the travel industry," said Herlihy. "This is also our way to thank all of the SYTA members who do so much to support this invaluable segment of our travel business."
SYF "Silver Lining Program"
Herlihy, in addition to being an SYF Trustee, enjoys a leadership role in helping SYF raise membership donations and organize programs for its "Silver Lining Program" that helps provide life-changing travel experiences to deserving students in need of assistance. He helped host a four-day visit of 35 students from the Sacramento area to Orando in July, where student participants engaged in educational conferences and mentoring sessions, and experienced several theme park highlights of the Orlando area as guests of Walt Disney World, Universal Studios and Holiday Inn of Kissimmee.
Some Silver Lining participants from the Orlando trip visited the Sacramento conference this week to talk about their travel experiences with SYTA members to help explain and build the foundation. Plans call for student and youth participants from the New York City area, site of the 2011 SYTA conference, to join an SYF Silver Lining trip to Philadelphia next summer. The SYF Foundation awarded more than 100 travel scholarships to students during the 2009-2010 school year.
More information about The SYTA Youth Foundation, a 501C3 philanthropic organization, is found at http://www.sytayouthfoundation.org.
About Travel Insured International
Travel Insured International, based in E. Hartford, CT, was founded in 1993 by the foresight of insurance industry executive Peter Gehris when he acquired the travel protection division of the Travelers Insurance Company. Coverage is underwritten by Arch Insurance Company (a Missouri corporation, NAIC #11150) with executive offices located in New York, NY. Arch Insurance is rated A ("Excellent") for financial strength by the insurance rating service A.M. Best. Not all insurance products or coverage is available in all jurisdictions. Coverage is subject to actual policy language
Travel Insured International
52-S Oakland Ave.
E. Hartford, CT 06128-0568
Contact: John Stone
Media Relations Manager
1-800-243-3174 x 117
jstone(at)travelinsured(dot)com
http://www.travelinsured.com
###