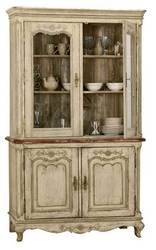 The average person probably wouldn't be able to distinguish between the pieces in our collection and a two-hundred-year-old antique
San Mateo, CA (PRWEB) September 7, 2010
There are ten solid-wood pieces in Laurel Crown's newest collection, each with the graceful curves and charming details that characterize the provincial French style. "We were inspired to create this line after a visit to the region," says Laurence Lok, Marketing Executive of Laurel Crown. To capture the je ne sais quoi of old world France, each piece is finished with several layers of paint and then scraped, sanded, and aged for a time-worn aesthetic. "The average person probably wouldn't be able to distinguish between the pieces in our collection and a two-hundred-year-old antique," he says.
The collection was meticulously handcrafted using Laurel Crown's newly developed series of techniques: a process with artisan attention dedicated to the patina, structure, surface, and ornamentation. By the time it's finished, each French furniture piece has had several layers of antique paint delicately applied by hand; the structure has been covered with a veil of cellulose varnish to preserve the patina; the surfaces have been lightly hand-stripped to bring out the natural grain and beauty of the wood. Floral ornamentation is chiseled into each piece as the finishing touch.
"We put our heart into every piece and we're really proud of the way this collection turned out," Lok relays. Most Laurel Crown furniture showcases a natural mahogany finish, but to truly capture the essence of Southern France, only an off-white patina would do. "The French country line's multi-layered patina finish is completely authentic to the time period," he adds.
Highlights of the collection include a two-door wardrobe, a chest of drawers, a Queen-size bed, arm chairs, and a hutch, all reminiscent of rustic France. Prices for French Country items range from $210 to $2,450.
See the French Country Collection.
About Laurel Crown:
Laurel Crown is a family-owned and operated furniture business, founded in 1990. The company prides itself on using flawless materials, time-honored techniques, and hand-craftsmanship. Every piece of antique reproduction furniture constructed with authentic style.
Laurel Crown Corp.
801 Woodside Way
San Mateo, CA 94401
###