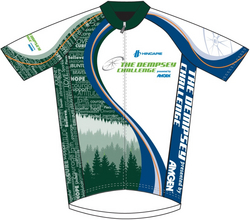 "Rinck has partnered with The Dempsey Challenge since last winter creating all new advertising and promotional materials for this very special fundraising event which supports The Patrick Dempsey Center for Cancer Hope & Healing," said Laura Davis, Vice P
Auburn, ME (PRWEB) September 5, 2010
It's all in a day's work for the creative team at Rinck Advertising to create print ads, web sites and television commercials. But the agency's recent work with The Dempsey Challenge provided an opportunity to become fashion designers. Recently, Karly Eretzian and Laura Davis of Rinck Advertising collaborated with the television actor, Patrick Dempsey, to create a custom Hincapie cycling jersey for the star to wear at the upcoming Dempsey Challenge in Lewiston, Maine on October 2 and 3, 2010.
"Rinck has partnered with The Dempsey Challenge since last winter creating all new advertising and promotional materials for this very special fundraising event which supports The Patrick Dempsey Center for Cancer Hope & Healing," said Laura Davis, Vice President at Rinck Advertising. "When we learned that Patrick wanted a custom jersey to personally wear in October as well as to give to the top fundraisers for the Dempsey Challenge, we just knew it had to be something very special."
The exclusive, custom-designed "Dempsey Club" Hincapie cycling jersey will be given to all participants who raise $1,000 or more for The Dempsey Challenge. Other fundraising incentives include a Dempsey Challenge L.L. Bean backpack, tickets to the Champions for Hope Reception and Dinner, tickets to a VIP Reception hosted by Patrick Dempsey and for anyone who raises $10,000 or more, a Private Group Ride and Reception with Patrick Dempsey and Pro Cyclists George Hincapie, Chris Horner and Levi Leipheimer and former Pro Cycist Kevin Livingston. Details of the event and fundraising incentives can be found at http://www.dempseychallenge.org.
"Patrick was great to work with," said Karly Eretzian, Rinck's creative director. "He knew exactly what he wanted - something that represented his home state of Maine and something that represented the passion and mission of The Patrick Dempsey Center of Cancer Hope & Healing. He also specifically requested British Racing Car green."
Dempsey's jersey features Maine pine trees as well as a graphic representation of the Androscoggin River which flows through the course in Lewiston, Maine. The Dempsey Center is visually represented in over fifty words imprinted on the jersey that describe the mission. The words were written and provided by fans on the Dempsey Challenge Facebook page.
"For me, the most special part of the design came from The Dempsey Challenge participants and supporters," continued Davis. "As a cancer survivor myself, these words truly resonated with me. I think my favorite came from last year's top fundraiser, Shannon Gilmartin, whose word was "Ubuntu" which refers to the human characteristics of generosity, consideration and humane-ness towards others in the community. Just perfect."
About Dempsey Challenge
Dempsey Challenge weekend which is presented by Amgen, will include a family friendly Festival in the Park which plays host to a Health and Wellness Expo, KidZone, vendor fair and live entertainment. Runners and walkers will enjoy the 5 & 10K Café on October 2 while cyclists are invited to take part in a participant lobster bake the following day. The Amgen Breakaway from Cancer Survivor Walk will be part of the closing ceremonies on October 3, 2010.
Participants are encouraged to create or join teams through the Dempsey Challenge website to build camaraderie and assist their fundraising efforts. For more information, including participant, volunteer and fundraising information, log on to http://www.dempseychallenge.org.
About Rinck Advertising
Headquartered in Auburn, Maine since 2001, Rinck Advertising is located on the sixth floor at Two Great Falls Plaza. Rinck Advertising is a full service marketing, promotion and public relations firm offering management and creative services in brand building, logo and identity packages, web and social media strategy and development, and advertising campaigns.
The agency represents a range of national clients including BlueWater Seafood, Dean Foods, Evergreen Insurance, Garelick Farms, Gorton's Seafood, Panos Brands, Harvey Industries, McDonald's, Lehigh Valley Dairy Farms and iParty. For more information, visit http://www.rinckadvertising.com or call 207-755-9470.
###