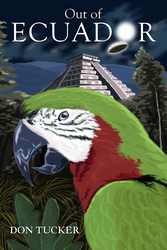 One of the Outstanding Young Men in America
Owasso, OK (Vocus) September 4, 2010
Out of Ecuador: The Coch Disclosure by Don Tucker has been released by Dorrance Publishing Co., Inc.
The adventure of a lifetime. How deceiving can the leaders of our nation be? How doomed to facts of reality is our world? Well, it only takes the courage of one man to seek and unravel the truth for the sake of mankind.
The aspiration of our protagonist covert invader to investigate the truth behind the existence of the Unidentified Flying Object (UFO) and the anomalies of the government brings him a series of life-changing experiences of being an Ecuadorian for seven years and a complete clone of Professor Erik Von Coch.
His discovery of extraterrestrial remains plots his desire to reveal a UFO conspiracy of the government, but his penetrating into the underground bunkers of the criminals does not do him any good; thus he needs to disguise and start a clean state.
Off he goes into the wilderness of Ecuador in search of a professor who devoted his time and own life to studying the celestial beings. He meets Waheed, a shaman descendant from an indigenous tribe in Ecuador who becomes his reliable guide and trustworthy friend. Waheed, who was once Coch's guide into the jungle, brings our main character to where the professor's remains are. Now having the necessary documents our protagonist needs to duplicate the professor, he unwearyingly studies Coch's mannerisms, way of speaking, and even his handwriting. Unexpectedly, through the professor's narration of his failed love life, our protagonist falls in love with the professor's wife, Laura.
Almost at hand with the evidence of the possible scheme of the government, an unexpected event occurs. Can a human stand side by side with an almost transparent being?
Don Tucker resides in Owasso, Oklahoma, and graduated from Lubbock, Tex. High School. While pursuing his degree in economics at Tulsa U., he was nominated by a law professor as "One of the Outstanding Young Men in America" for the Jaycees.
A former mayor and motivational speaker, Don spends his leisure time fishing at Bear's Den Resort on Grand Lake and listening to Coast-to-Coast AM radio. Among his other works are short stories and a book of poetry entitled Pangs of a Poet.
Out of Ecuador: The Coch Disclosure is a 96-page paperback with a retail price of $9.00. The ISBN is 978-1-4349-0633-5. It was published by Dorrance Publishing Co., Inc of Pittsburgh, Pennsylvania. For more information, or to request a review copy, please visit our virtual pressroom at http://www.dorrancepressroom.com or our online bookstore at http://www.dorrancebookstore.com.
###