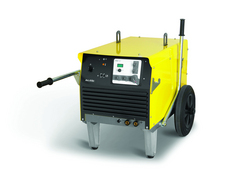 Florence, SC (Vocus) September 7, 2010
The Origo Arc 410c and 650c from ESAB Welding and Cutting Products are sturdy and robust switching converter (chopper) power sources intended for manual heavy-duty stick welding with coated electrodes, TIG welding and air carbon arc gouging. The wide current range and stepless current control provided by the Origo Arc machines makes it easy to optimize settings, allowing the machine to be used with an extensive range of filler materials. Parameters can be easily adjusted during the welding process.
The welding properties of the Origo Arc units are configured to meet the requirements of welding with all electrodes, including cellulosic electrodes. The arc is very flexible when starting from the lowest currents, and when the arc is shortened, the arc force makes weld penetration easier, especially when the electrode is pressed against the welded material. The dynamic characteristics of the Origo Arc range ensure a stable, spatter-free arc, and an easily controlled molten pool.
Additional features designed to produce the highest level of reliability and outstanding welding performance include hot start, arc force, and anti-stick. Vertical volt/amp characteristics maintain constant current regardless of cable length and arc voltage. Due to the high power factor, amperage draw is low, and installation costs can be kept to a minimum. Origo Arc's strong metal housing makes these machines ideal for use in harsh industrial environments.
The Origo Arc 410c and 650c are equipped with ESAB's A12 control panel. The A12 is a full-featured control panel with a V/A instrument and a receiver for wireless current setting. As an option, the Origo Arc range can be equipped with a remote control. The units switch off automatically if overheating is detected.
The Origo Arc machines are ideal for general fabrication and civil construction, repair and maintenance, and use in the power generation, pipeline, shipbuilding, offshore and process industries.
Origo Arc 410c and 650c come with a three-year warranty.
With more than 100 years of experience, ESAB Welding & Cutting Products is one of the world's largest and most knowledgeable manufacturers of welding and cutting equipment and welding filler metals. To ensure customer satisfaction, many ESAB products carry a 100% Satisfaction Guarantee. Recognized as the technological leader in the industry, ESAB is committed to providing customized solutions for its customers. For more information on these products, visit http://www.esabna.com or call 1-800-ESAB-123.
###