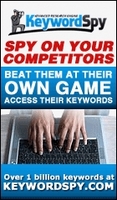 "We let the competitors spend money to find out which keywords work, then we simply copy and paste the best ones into our clients' campaigns."
New York, NY (PRWEB) September 7, 2010
"With KeywordSpy, we can see every keyword that anyone on the Internet is using for their pay-per-click and SEO campaigns," Leung said recently. "We let the competitors spend money to find out which keywords work, then we simply copy and paste the best ones into our clients' campaigns."
KeywordSpy tracks over 127 million keywords on a daily basis and uses an algorithm to determine which keywords are actually creating sales. Google is prohibited from providing this data as it would be a conflict of interest to sell an ad and then tell the buyer's competitors which keywords were producing the most sales. However, since the Internet is open, KeywordSpy collects this competitive data and provides it for businesses to greatly increase the ROI of their investment in online ad-dollars spent.
The $89.00 per month KeywordSpy tool has helped the State Farm Insurance agent increase his business by 4% over the past 12 months.
The KeywordSpy tool also includes an Advanced Pay-Per-Click Export feature that allows users to directly export high-sales-producing keywords into the Adwords, Yahoo, and Bing advertising platforms.
With data from over 300 affiliate ad networks and 30 countries, KeywordSpy.com is a must-have tool for local businesses looking to stay ahead of the competition. KeywordSpy maintains the largest database of keywords outside of Google and currently receives over 5 million unique visitors each month giving it an Alexa rank of 997 (U.S.).
###