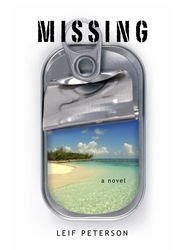 This book had me logging onto Facebook the minute I got home every evening. I couldn't wait to find out what happened next.
Whitefish, MT (PRWEB) September 7, 2010
During the winter of 2009, Leif Peterson was challenged by a friend to write a 1000-word story about a man who discovers a Missing Person poster with his own face on it. He wrote the story, and on February 10th, he posted it on Facebook for his friends to read.
But the friends who read it didn't realize he was done; they thought he was just beginning. Messages began pouring in demanding to know what happened next. Encouraged by their responses, Peterson decided to continue the story, which he called "Missing." For the next four months, five days a week, Peterson posted new installments to the story as a growing readership eagerly followed along.
As the story developed, certain readers emerged as steadfast fans, leaving comments almost daily and sometimes voicing their frustration at having to wait twenty-four hours for the next installment. In an interesting development, Peterson began rewarding those readers by naming new characters after them.
On June 10th, 2009, four months after he began, Peterson posted the eighty-fourth and final installment to the story concluding what could very well be the first-ever novel written entirely on Facebook.
"Essentially, it's a story about a man who begins to question his own identity," says Peterson. "Without quite knowing why, he soon finds himself in another city, in another country, in another hemisphere, searching for a woman he knows by name, but who he's never met. I never thought I'd write a page-turner, but that's what this turned out to be."
The story is now published in book form and is available at online retailers. Except for some light editing, the printed book appears exactly as it did day by day on Facebook as it was being written. But is it really the first time anyone's ever written an entire novel on Facebook?
"There are some other people out there that have claimed to have written a novel on Facebook," say Peterson. "But as far as I can tell no one actually wrote day by day on the site, but instead used Facebook to serialize something they'd already written. When I posted the first installment, I hadn't written the second. And it was another eighty-four days before I wrote and posted the conclusion. I was writing daily and posting daily. There was no opportunity to go back and make plot changes."
Leif Peterson is the author of three other works of fiction, including "Catherine Wheels" published by Random house in 2005. A free excerpt from "Missing" is available to read at: http://www.leifpeterson.com
###