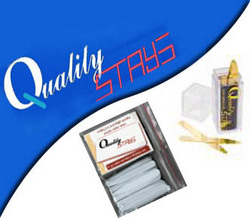 We cut cost to consumers like you by manufacturing our own collar stays
Passaic, NJ (Vocus) September 6, 2010
Encompassing an impressive array of clothing accessories, Qstays.com delivers unique and stylish plastic and metal items that match every clothing type, for a more sophisticated and classy look. Given the personalization option, clients can request for special imprints or models so that the items match the event they buy them for.
The collar stays are available for purchase in either plastic or stainless steel, while cufflinks are only purchasable in steel form. The men's section features classy money clips in a variety of models which start at just $14. To customers' delight, bulk items are available at discounted prices, thus one can buy 10,000 2" plastic collar stays for $200.
The various types of cufflinks, steel screws and collar stays are specially designed to accommodate a stylish look regardless of the clothes one decides to wear. Customers that find the collars the company presents them with aren't enough to suit their preferences, have the option to add a personalization to their items and choose to go with the special feature which offers them engraved collar stays that add a personal touch to their looks.
The founder and owner of the successful business says, "We cut cost to consumers like you by manufacturing our own collar stays", which arguably signs the dedication to satisfying the needs of the ever growing number of customers.
The portal offers special quick shipping service for people living in the United States and all over the world. Customers placing their purchase before 2:00 EST receive their items the next day. Shipment details in regards to purchases outside the United States range from 3 to 6 days.
About Quality Stays
Quality Stays is a U.S. based clothing accessories company and has its inception date in 2007 and started as a small eBay business targeting to fulfill the growing need of customers that want to enrich their clothes with stylish accessories.
Contact Details:
Quality stays
36 Orchard St.
Passaic, NJ 07055
Email id : qualitystays(at)yahoo(dot)com
Phone No : 1800-868-8195
Website URL : http://www.qstays.com/
###