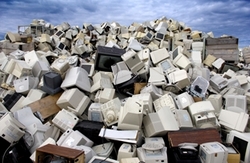 This unique program makes it possible for the general public to recycle their electronics equipment without leaving the comfort of their home or office
Tampa, FL (PRWEB) September 7, 2010
Florida E-Waste Recycling announces their new next business day e-waste collection service. The company will pick up obsolete computers and electronics equipment from commercial/industrial offices and residential curb-site locations throughout the State of Florida with the exception of the keys and the panhandle.
Our goal is to stand out from the competition by providing services to our customers that are not currently being offered in the recycling industry. The general public will no longer have to travel great distances to the nearest recycling center or wait for a quarterly recycling event to dispose of their e-waste. We are pleased to pick up electronics at the customer's door for a small fee or they can drop off items for free at one of our GreenSite locations in Central and Northern Florida," stated Mark Sage, Managing Partner.
Florida E-Waste Recycling presently has 40 GreenSite Drop Off locations in Alachua, Hernando, Hillsborough, Pinellas, Polk, Manatee, Marion and Sarasota Counties. To learn more about Florida E-Waste Recycling or to schedule a pick up, access http://www.floridaewaste.com.
About Florida E-Waste Recycling:
Florida E-Waste Recycling is a Tampa based electronics recycling firm that offers convenient GreenSite Drop Off locations in Central and Northern Florida, in addition to a commercial/residential pick up service. The company is actively seeking partner businesses to become drop-off sites throughout the State. For more information about becoming a GreenSite Drop Off location, call 877-811-5865 ext. 105. Florida E-Waste Recycling is backed by Wyndham Capital, LLC, a Tampa based private equity firm.
# # #