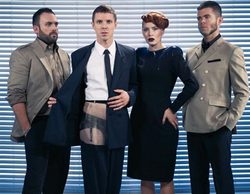 "What better way to celebrate fashion and music? USC where global brands meet global bands and you don't get much more meteoric than Scissor Sisters"
(PRWEB) September 7, 2010
Bauer Media and fashion retailer USC – the trend-led destination for branded clothing, footwear and accessories – are thrilled to announce the next act to headline USC Live. Following the shows with Amy MacDonald and Pixie Lott, the third in the series of exclusive gigs looks set to turn the fun (and glam) factor up to 11 with the filthy, gorgeous Scissor Sisters.
On Thursday 23rd September, Jake, Ana, Babydaddy, Del and Randy will put on a very special show at Sound Control in the heart of Manchester for just a few hundred lucky competition winners. Fans will be treated to a rare, intimate performance of the band's biggest hits to date plus they'll be given the chance to see live renditions of tracks from their latest album, 'Night Work', including the fantastic hit 'Fire With Fire'.
The event will be co-promoted by Bauer radio stations right across the UK in partnership with leading high street retailer USC. Tickets to the show are FREE and available via competitions in USC stores or via Bauer's networked evening programme 'In Demand', where there will be competitions running every night from Monday 30th August– Friday 3rd September. The gig will also be recorded by Bauer and broadcast in October across 16 radio stations inc. Clyde 1 (Glasgow), Key 103 in Manchester, Tay FM in Dundee and Rock FM in Preston.
Scissor Sisters first found UK success in 2004 with smash hits such as 'Take Your Mama' and 'Filthy/Gorgeous' and it was Britain, rather than their U.S. homeland, which really established them as an international tour de force. For a band who sprung out of downtown New York clubs, Scissor Sisters' success was meteoric with their eponymous debut album becoming an international smash and the top-selling album of 2004. The follow-up 'Tah-Dah' topped the US billboard charts and ever since they've been firm favourites in the charts and on the live scene around the world. They recently stole the show at Glastonbury when they performed a duet with Kylie Minogue. Despite all this, the band has always kept their roots firmly embedded in the magic of their former stomping ground through their infectious dancefloor anthems that appeal to everyone and anyone who likes to party.
It looks like current album 'Night Work' will more than live up to its predecessors. It was released June 28th of this year to a rapturous reception and a number two spot in the UK album charts. The second single - 'Any Which Way' - is set for release on 20th September.
Scissor Sisters are born entertainers, known for their outlandish, humorous and sometimes controversial live performances. They are thrilled to be coming back to the UK – their 'spiritual home' - to treat loyal fans to the night of their lives at USC Live.
Siobhan Crampsey of Bauer Media says
"It's a real thrill and an honour to have a band of the stature of Scissor Sisters confirm for USC Live. They're a huge name and have a back catalogue of massive hits and a fantastic new album that we're all really looking forward to seeing them showcase on the night. All our stations and all the USC outlets across the country are expecting a deluge of entries to competitions and requests for access to the show and with only a few hundred to go around, this is going to be a VERY hot ticket"
Ewan Hunter, Marketing Director at USC says
"What better way to celebrate fashion and music? USC where global brands meet global bands and you don't get much more meteoric than Scissor Sisters"
For more information on how to be at the show of the year, fans should stay tuned to their local Bauer radio station or log onto http://www.usc.co.uk where they can also win £200 of vouchers to spend at USC.co.uk online
With an 18 year history in retail, USC is a premier destination for branded clothing, footwear and accessories. Catering to fashion savvy men and women throughout the UK, USC is a one stop shop for premium street wear and denim brands such as Diesel, G Star, Miss Sixty, Replay, Firetrap, Levi's & Gio Goi. USC prides itself on offering one of the largest collections of women's jeans and men's jeans in the UK and working with leading brand partners to produce exclusive brand collections each season. Having recently relaunched it's website in 2008 USC was recently shortlisted for the Best Multi Channel Retailer Award at the Drapers Etail Awards 2009. There are 35 USC stores nationwide with six flagship stores in Manchester, Glasgow, Edinburgh, Newcastle, Cardiff and the most recent addition Liverpool.
###