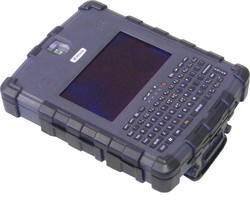 Fairfax, VA (Vocus) September 9, 2010
MaxID, a leading provider of identity solutions today announced the sale of Atom-Based iDL750 Multimodal computers to NEC Hong Kong Limited for deployment in a European Border Management application.
The iDL750 units delivered to NEC Hong Kong will be used for reading, validating and recording information from passports and ePassports in a border crossing application. The iDL750 units are equipped with optional MRZ reader attachments to provide optical reading capabilities for passports.
"NEC is a very strategically important go-to-market partner for MaxID Corp. In terms of identity and biometrics, NEC has always held a global leadership role, and our work with them throughout Southeast Asia and Europe continues to grow dramatically. We fully expect to see many more joint opportunities between the two companies" said Brian Skiba, President of MaxID Corp US.
"MaxID , being a leader in the identity management space, provides one of the most compelling Atom-based solutions to the marketplace with the iDL750. This device was ideally suited for the border-management application at hand. We continue to work with MaxID's broad product lineup including the new iDL300 and the industry-standard iDL500 " says Brian Foo, General Manager of Government & Public Solutions NEC Hong Kong Limited.
Designed for LiveScan enrollment as well as high speed biometric validation, the iDL750 offers expanded functionality of an optical fingerprint reader, dual Contact Smart Card readers, and a 2 Megapixel color camera capable of streaming video. The iDL750 is a mobile computer that includes a 32-channel GPS receiver, bar code reader, and multiple integrated wireless options. A complete computer despite its small size, the iDL750 runs Windows® XP, Windows Vista® or Windows® 7 operating systems. The iDL750 also features a 5.6" TFT display with 1024x600 resolution landscape display that is easily readable in sunlight. A full QWERTY backlit keyboard features 58 keys and directional arrows for navigation.
About MaxID Corporation
MaxID Corp is a leading provider of identity and security solutions. It designs, manufactures and sells identity management solutions for a mobile environment. The company is headquartered in Pleasanton, California, and has offices in Virginia Beach, Virginia, the United Kingdom and South Africa.
MaxID Corp maintains a global research and development team that has more than 20 years experience introducing new technologies. The company's most advanced biometric handheld devices are manufactured in the United States and are distributed worldwide. More than 25,000 identity devices are being deployed worldwide by customers such as the US Department of Defense, the US Department of Homeland Security, border and law enforcement agencies, and power generation and maritime facilities. For more information about MaxID Corp, please refer to the website maxidcorp.com.
NEC Hong Kong Limited
A wholly owned subsidiary of NEC Corporation, NEC Hong Kong Limited is a leading provider of information & communications technologies and telecommunications network services, committed to serving the specific needs of customers from the public sector, telecommunications, financial services, hospitality, manufacturing and other commercial sectors.
###