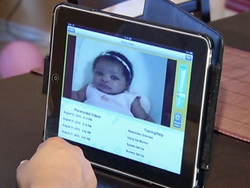 Lots of parents are keeping their cellphone on their desk so they can keep one eye on work and the other on their baby.
Dallas, TX (PRWEB) September 8, 2010
Want to watch your baby in live streaming HD video? Now there's an app for that too.
A Lewisville, Texas couple has come up with a way to check in on that little bundle of joy from your smartphone, iPad or any computer.
"It takes the video baby monitor to a whole new level," explains Craig Thompson, who created iBabyVideo with his wife. "Now parents, grandparents, aunts and uncles can glance down at their phone and check in on the crib-cam or nursery webcam and see what their baby is up to."
You can even set it up to alert you when the baby moves or cries. And iBabyVideo records motion events, so you can actually go back and see what woke the baby up.
"We really think this is a peace of mind app for parents," says Leslie Thompson, the co-creator. "We know parents who just keep their cellphone on their desk at work, live streaming HD video of their baby at all times. Even if all the baby is doing is sleeping, it just makes them feel closer."
The video is encrypted, so nobody else can access the feed without the parent accountholder's permission.
New parents often spend upwards of $150 on home audio and video baby monitors, and many complain that they can't get a clear signal, are limited to only one receiver, or experience interference. With iBabyVideo, users not only see live, high-definition video, but they can also see what's happening in the nursery wherever they are, whether it's in the next room or across the country.
To introduce the service, iBabyVideo is offering a special subscription rate of $9.95/month. Additional viewer accounts are offered at $7.95/month and require access permission from the parent accountholder to view the video feed. The smartphone and iPad mobile applications can be downloaded for free in the app store on iTunes.
###