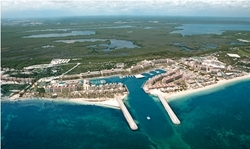 Since our first contact with La Amada we have found all their representatives to be professional & a pleasure to deal with. It has been truly exciting to watch this 1st. class residential & marina develop into what is sure to be a premiere resort destination
Cancun, Mexico (PRWEB) September 14, 2010 –
La Amada Residences, the ultra upscale resort setting a new standard for luxury in Cancun, has a brand new, state of the art Web site at http://www.laamadaresidences.com/. An Image gallery, video gallery and series of 360-degree panoramas, LaAmadaResidences.com captures the gorgeous scenery and tempo of life in this part of Cancun. La Amada's Web site will be the first stop for anyone looking to invest in luxury in Cancun, Mexico. This freestanding beachfront community has an inland marina, Greg Norman signature golf course, luxury Cancun residences, gourmet restaurants, elegant shopping, a full service spa, and Cancun 5 Stars hotel.
The resort redefines Mexican magnificence. Location and amenities mean La Amada is at the heart of Cancun. Hugging the pristine Quintana Roo coast (also known as the Mexican Caribbean) along Playa Mujeres, La Amada represents a modern vision for resorts. Low density and developed with tremendous respect for the natural environment, La Amada cultivates a unique sense of place. Top technology intelligently deployed sets the resort apart. This unique marriage of environmental awareness and technological advance is a tribute to Professor Carlos Hank González and is the main vision guiding the developers.
LaAmadaResidences.com is a clear and beautiful invitation to invest in this luxury Mexican resort. View the various types of residences available, learn about the range of amenities, and investigate available financing options. Investors visiting La Amada can take advantage of their Discover La Amada program. Visitors receive a free shuttle ride from the airport, golf, spa and restaurant credits and in depth tours of the property.
Buyers rave about their experience purchasing at La Amada. "Since our first contact with La Amada we have found all their representatives to be professional & a pleasure to deal with. It has been truly exciting to watch this 1st. class residential & marina develop into what is sure to be a premiere resort destination," said Mr. & Mrs. Woodhouse.
About La Amada Residences
In the market for real estate in Cancun, Mexico? A luxury second home? or Mexican Caribbean condominium? Simply looking for a Cancun vacation? Whatever the reason, La Amada Residences is the place. Situated on a pristine stretch of beach in Playa Mujeres, Mexico, La Amada Residences is a mere 25-minute drive from Cancun International Airport yet is its own little world. Private airport transport is easily arranged, and there is a heliport right in the resort community. Visitors can also come by yacht and dock at a full-service inland marina. Book a hotel stay with La Amada Resorts and they will provide visitors with a personal concierge.
Contact:
Juan David Cañas Yofu
Tel. +52 (998) 872 8738
Mex. 01800 23 amada
Usa. 1866 595 9043
Can. 1866 635 4950
j.canas(at)laamada(dot)com
###