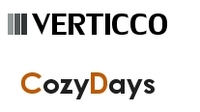 Verticco and CozyDays are Strategic Partners...
Miami Beach, FL (PRWEB) September 8, 2010
CozyDays and Verticco , both online retailers of household products, are joining forces as strategic partners. CozyDays Inc., an online retailer of outdoor living products, operates over 50 online stores in addition to its main website CozyDays.com. Since 2002, their steady growth has enabled CozyDays to continuously launch new online stores. Each new store has been designed to offer specialty household products under important vertical segments. With the creation of new niche websites, the company is able to reach a more targeted audience and the diverse categories enable the company to cater to a broader customer base.
Verticco, LLC, also operates separate 50 online stores in addition to their main website Verticco.com. Verticco's offerings focus primarily on household products such as; cookware, lighting, pet items and indoor furniture.
By CozyDays and Verticco joining forces, they will be able to benefit from each other's expertise in their respective niches and existing customer base. Since each company's product offerings are supplementary to the others, the combination will provide a broader variety of products for their customers. Centralized marketing operations with targeted promotions for the partnership customer base will enable each company to benefit from the strengths of the other while the economies of scale will foster more rapid growth and help offer customers more value.
About Verticco, LLC: Verticco is an online retailer of household, pet, lawn & outdoor, fitness, office and kids goods. The manufacturers and products offered through Verticco are stringently reviewed for safety, durability and overall quality. All Verticco products come with Free Shipping.
About CozyDays, Inc.: CozyDays is an online retailer and wholesaler of outdoor living products. Based in Miami, FL, CozyDays maintains over 50 retail websites including its main website CozyDays.com. CozyDays performs all website related work in-house which gives them the flexibility that third party software cannot match.
For More Information Contact:
UMUT VARDAR
Verticco, LLC
305-517-3804
# # #