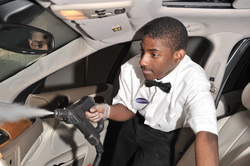 "This revolutionary process sterilizes your vehicle, and protects the environment without excessive water use or harsh chemicals."
Detroit, MI (PRWEB) September 8, 2010
Car Wash Industry leaders receive elite invitation from Secretary of Commerce Gary Locke
The troublesome fog that lingers over Michigan's economy may be starting to clear… literally. DetailXPerts, a green technology company that offers professional detailing services, has created the world's first eco-friendly steam cleaning system. Since 2007, they've led the movement to create a highly-effective, water-saving way to detail your car.
Ms. Williams, President of DetailXPerts said, "We treat your car to its very own auto spa. Our eco-friendly, water-saving technique uses less than a pint of water to clean one entire car. This revolutionary process sterilizes your vehicle, and protects the environment without excessive water use or harsh chemicals."
Aside from helping to rejuvenate the planet, DetailXPerts is tackling another serious issue – unemployment – by providing car wash franchise opportunities . As much as Michigan has been devastated by the financial events in recent years; the entire nation is in monetary disarray.
DetailXPerts has recently been recognized by Secretary of Commerce Gary Locke for their initiatives to create new jobs within the Southeastern Michigan area. They've been invited to attend the latest Commerce Connect meeting with other top job creating companies in the area. In October, 2009, Locke created the "one-stop shop" program named Commerce Connect, which makes it easier for Michigan businesses to access federal, state and local government programs that are available.
"We're truly honored to receive this invitation. During these trying economic times, it's comforting to know that these programs are available. We want to sincerely thank Secretary Locke for having the vision to create the Commerce Connect program, which has resulted in our company creating 7 jobs, and led to a 400% increase in revenue," Ms. Williams said.
One tale of triumph includes the story of Alicia Trotter, a 20 year old young woman. Both her father and mother were laid off and fearing the worse. With the help of DetailXPerts car wash franchise, she opened up her own eco-friendly auto detail shop. Now, she has her own business and her parents no longer have to worry about finding a job – they work with her.
About DetailXPerts:
Centralized in Detroit, Michigan, DetailXPerts developed the world's first eco-friendly steam cleaning system. They take pride in contributing to a greener environment. They are dedicated to creating new jobs through their car wash franchise opportunities , which are currently offered in 34 states.
Interested in learning more? Call (313) 924-9779, toll free (877) 317-9737, or visit their website at http://www.detailxperts.net.
###