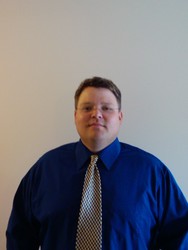 Kansas City, MO (PRWEB) September 7, 2010
Grantham University, an online university specializing in educating working adults, announced today that the Air Force Association (AFA) has awarded Dameyon Beaman with a full scholarship to Grantham. Beaman, a former Medical Technician in the United States Air Force, plans to complete a Bachelor of Science degree in Multidisciplinary Studies. The scholarship, valued at $36,000, covers tuition costs, required textbooks, software, and fees for an undergraduate degree.
Beaman, who currently works as a Mental Health Technician for the Department of Veterans Affairs in Lexington, KY, first enrolled at Grantham University in 2008. "I chose Grantham University because the school is veteran friendly and its flexible online course format fits my schedule," said Beaman. In December 2009, he earned his Associate of Arts in Multidisciplinary Studies and is well on the way to completing his bachelor's degree.
"We are blessed to have Dameyon as a student and wish him continued success on his educational journey," said Dr. Cynthia Hoss, president of Grantham University. "Grantham University is proud to partner with the Air Force Association because promoting the importance of education is a key part of each of our missions."
In addition to the annual scholarship, members of AFA and their families can take advantage of a special tuition grant at Grantham University that includes a Textbook and Software Grant which covers the cost of required textbooks and software.
Grantham's 100% online degree programs allow students to access their coursework when and where it's convenient for them, so they can fit education into their lives instead of arranging their lives around education.
To learn more, visit: http://www.grantham.edu/afa.
About AFA:
The AFA is a 501(C)(3), nonprofit organization promoting public understanding of aerospace power and the pivotal role it plays in the security of the nation. AFA has over 200 chapters nationally and internationally representing 120,000 members. Visit AFA http://www.AFA.org.
About Grantham University:
Established in 1951, Grantham University is a private institution that specializes in online education for the working adult student. Its mission is to provide accessible, affordable, professionally relevant degree programs in a continuously changing global society. The University prepares graduates for careers in business, engineering technology, computer science, criminal justice, healthcare, nursing, information technology and other professional fields. Grantham University offers a military scholarship program for active duty, reserve, guard, veterans and military family members, as well as scholarships for law enforcement professionals. Grantham's courses are 100% online, allowing students to study at home, at work, on Temporary Duty (TDY) or from almost anywhere in the world. Accredited since 1961 by the Accrediting Commission of the Distance Education and Training Council, Grantham University has compiled a distinguished record as a respected and accredited distance learning university spanning six decades of service to education. For more information, visit http://www.grantham.edu or call 1-800-955-2527.
###