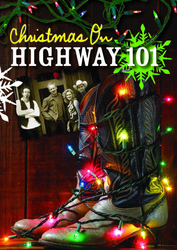 "I have loved Highway 101 since working with them in the 1980's," says Wynonna. "Their music is timeless. I am a fan and you will be too!"
Nashville, TN (PRWEB) September 7, 2010
Uptone Pictures and Pure Flix Entertainment invite you to spend this holiday season with the GRAMMY® nominated, chart-topping country band, Highway 101. On November 9th, CHRISTMAS ON HIGHWAY 101 will be released on DVD, featuring a special appearance by Country music icon Wynonna.
CHRISTMAS ON HIGHWAY 101, directed by Michael Davis (Christmas Memories, A Box for Rob), is a collection of heart-warming stories and awe-inspiring music from one of country music's legendary groups, featuring 11 traditional carols and holiday songs all nicely wrapped with the unique Highway 101 sound. Filmed on location at the Great Wolf Lodge in Concord, North Carolina, the music-filled DVD release is fun for the whole family.
"As a member of this band since the very beginning, there have been many great moments," says Highway 101's drummer/vocalist Cactus Moser. "Yet at this point in our lives and careers it is so very exciting to have a project that feels like a new beginning for the band. We truly enjoyed ever moment of writing and recording this music. The first album in 1987 launched us onto an amazing ride that we're still on. My heart is feeling the same emotions about CHRISTMAS ON HIGHWAY 101."
Highway 101 has won two CMA Awards and two ACM Awards for Vocal Group of the Year, and landed on the Billboard Country Chart more than 15 times, including the #1 hits "Somewhere Tonight," "Cry, Cry, Cry," "(Do You Love Me) Just Say Yes" and "Who's Lonely Now."
"I have loved Highway 101 since working with them in the 1980's," says Wynonna. "Their music is timeless. I am a fan and you will be too!"
A broadcast version of CHRISTMAS ON HIGHWAY 101 will be airing throughout North America this Christmas season, including scheduled airings on FOX Business Network, Cornerstone Television, various CW affiliates and more. Check local listings for more information.
CHRISTMAS ON HIGHWAY 101 is distributed by EMI CMG Distribution.
###