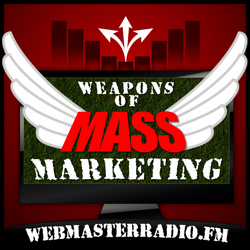 Fort Lauderdale, FL (PRWEB) September 7, 2010
WebmasterRadio.FM, the premier B2B online radio network, is pleased to announce a new monthly radio series presented by RavenTools.com called "Weapons of Mass Marketing" beginning Tuesday, September 7 at 1 p.m. Eastern / 10 a.m. Pacific.
"Weapons of Mass Marketing" is a do-it-yourself internet marketing show where featured guests will share advice about the latest and greatest tools for PPC, social media, affiliate marketing and more.
"Tools are just as an important part of your online marketing efforts as your strategy and implementation," said Pratt. "We want to help you succeed."
Listeners can interact with their questions and comments to the hosts and interview guests, as well as all live WebmasterRadio.FM programming, by:

Following us on Twitter @webmasterradio
Becoming a member of the WebmasterRadio.FM Facebook page or …
Log in to our live 24-hour real-time chatroom monitored by our show hosts at http://www.webmasterradio.fm/chat.
"Weapons of Mass Marketing" airs on the first Tuesday of every month at 1 p.m. Eastern / 10 a.m. Pacific on http://www.WebmasterRadio.FM. Episodes are archived exclusively on WebmasterRadio.FM, the world's largest online B2B Radio Network. This program, as well as all WebmasterRadio.FM podcasts, is available on iTunes and other premier podcast portals.
About Raven Internet Marketing Tools
Raven Internet Marketing Tools is used by thousands of marketers around the world to efficiently manage search engine optimization and social media conversations. With Raven Tools you can conduct research and analysis, manage link building campaigns, track search engine trends, instantly produce sophisticated campaign reports for SEO and SMM campaigns and collaborate with team members using intuitive multi-user features. Learn more at http://raventools.com.
About WebmasterRadio.FM
WebmasterRadio.FM lifts the "veiled curtain" of the Internet, bringing the business community together through an interactive radio network. Its listeners are a global group, comprised of everyone from corporate executives and decision makers to small and mid-sized businesses and individual entrepreneurs. WebmasterRadio.FM's stellar line-up of radio programming includes "CoverStory" with Jiyan Wei of PRWeb, WebmasterRadio.FM's official newswire; "Market Edge" with W2/Racepoint Group Chairman Larry Weber; "SEM Synergy" with Search Engine Marketing Industry Leader Bruce Clay, "The Joel Comm Show" with New York Times bestselling author and serial entrepreneur Joel Comm and more. To tune into WebmasterRadio.FM's live content or check out the show lineup, please visit http://www.WebmasterRadio.FM.
Media Contact:
Brandy Shapiro-Babin
954-309-5578
###