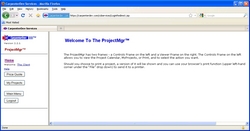 Seattle, WA (PRWEB) September 7, 2010
The ProjectMgr™ updates include a visual navigator that allows clients, designers and operations staff to more easily identify a project's status and its pending action items as it progresses through the design and development process. According to CarpenterDev Quality Chief, Tom Buren, "These improvements provide another layer of quality control, and makes it easier for our clients to see where their projects are, at any point in time without having to drill down into status reports". Also included in the update is a Messaging and Notifications tool to further improve communications while reducing workload.
The SalesTracker™ updates include a Performance Summary that allows the CarpenterDev sales team to monitor the performance of their online marketing efforts. The improvements allow the team to identify the best performing media and track them from first click to delivered project. CarpenterDev Sales Director, Stephanie Van, says "This latest version involves a tighter coupling between media management and project tracking so that our costs can be reduced, which reduces our client's costs".
The company is currently in a major marketing effort following a successful build-up of its design team earlier this year. Company President, Bob Carpenter, says, "These tool updates will directly affect our clients bottom-line because as we reduce our costs to be more competitive we pass those savings onto our clients".
###