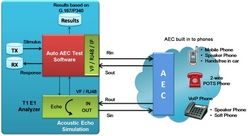 Acoustic echo is a serious impairment in communications. It is encountered in standard landline phones, mobile phones, IP phones, and other phones able to operate in a
Gaithersburg, MD (Vocus) September 8, 2010
GL Communications Inc. announced today the release of its new product Acoustic Echo Canceller (AEC) Compliance Test Software. Speaking to news persons, Mr. Vijay Kulkarni, CEO of the company said, "Acoustic echo is a serious impairment in communications. It is encountered in standard landline phones, mobile phones, IP phones, and other phones able to operate in a "speakerphone mode". Feedback from the speaker into the mic must be cancelled by an AEC before it reaches the talker. The performance of an AEC is specified in ITU-T Specifications, G.167 (03/1993) and P.340 (05/2000). GL's software allows the user to test AECs, in any environment, for compliance to these specifications.
"Specifically, the application uses GL's T1 E1 Analyzer products and customers AEC hardware or software to perform Acoustic Echo Canceller testing. Rin and Sin files (Stimulus and Echo) are prepared by Automated AEC Test Software in accordance with user inputs and Rout and Sout are captured and processed".
He added, "As depicted in the below diagram, Rin is the source signal (from the far end), which goes through Acoustic Echo Canceller (AEC) and Sout is the echo cancelled signal, which comes out of AEC. The leakage from Rout to Sin is due to the acoustic echo. The module, which includes AEC, Rin, Rout, Sin and Sout, can be a Sound Card, a Mobile Phone, a Regular Phone, an IP Phone, or a SpeakerPhone".
Mr. Kulkarni added, "AutoAECTest performs a full analysis (with detailed displays) that results in a "Pass" or "Fail". And Supports *.csv and *.xls format files for reporting AEC Test results analysis".
AEC Testing Scenarios
Stimulus / Simulation all Digital (TDM Applications): In this scenario, the AEC is assumed to be located in the network. Acoustic echoes are simulated within the GL's T1 E1 platforms digitally. The generation of the stimulus signal and the capture of the response signal is also performed by GL's T1 E1 platforms.
Stimulus / Simulation all Analog (Mobile Phone Applications): In this scenario, the AEC is assumed to be in a mobile phone and accessed thru an analog interface. Again GL's T1 E1 platforms with analog interfaces are used to convert analog signals to digital and subsequent processing is performed digitally Level adjustment accessories are used between mobile phone and the Dual T1 E1 card to accommodate various signal levels and impedances.
Stimulus RTP (Ethernet) / Simulation Analog or Digital - (VoIP IP Phone Applications): In this scenario, the stimulus and response signals are generated by GL's RTP Toolbox™ thru an Ethernet interface and simulation is performed digitally by GL's T1 E1 platforms, whether accessed thru analog or digital interfaces.
Important features
•Simulates an actual acoustic echo path with acoustic filter types (Small, Medium, Large Office), Echo path delays and losses
•Features such as filter, attenuate, and delay are available as well as slow filter coefficient variation as a function of time to simulate a real acoustic environment
•Real-time as well as off-line analysis with tabular Pass/Fail results
•Simulate acoustic echo for Analog (Mobile Phone), digital (Gateway ), and Packet (VoIP IP Phone) applications
•Auto or Manual control of the AEC during testing
•Auto analysis of the response according to G.167 (03/1993) & P.340 (05/2000) requirements
•Detailed graphical and tabular results for individual and overall tests
•Generation of report with the plots (Report Analysis)
•Options to recalculate test parameter across different region in the waveform (Plot Results)
•Option to zoom-in on any test results to investigate further
•Supported on Windows XP with user-friendly Graphical User Interface
•Compatible with GL's Universal HD T1 E1 cards and USB Portable T1 E1 units
About GL Communications Inc.,
Founded in 1986, GL Communications Inc. is a leading supplier of test, monitoring, and analysis equipment for TDM, Wireless, IP and VoIP networks. Unlike conventional test equipment, GL's test platforms provide visualization, capture, storage, and convenient features like portability, remotability, and scripting.
GL's TDM Analysis & Emulation line of products includes T1, E1, T3, E3, OC-3, STM-1, analog four-wire, and analog two-wire interface cards, external portable pods, and complete system solutions. Capabilities include voiceband traffic analysis and emulation across all traffic types (voice, digits, tones, fax, modem), all protocols (ISDN, SS7, GR-303, Frame Relay, HDLC, V5.X, ATM, GSM, GPRS, etc.), and with capacities up to thousands of channels.
GL's VoIP and IP products generate / analyze thousands of calls / traffic simultaneously with traffic types such as frames, packets, voice files, digits, video, tones, noise, and fax using G.711, G.729, AMR, EVRC, GSM and a range of other codecs. Additional features include visual analysis, real-time listening, and recording. The product line also includes Ethernet / IP Testing capability that simulates and checks frame transport and throughput parameters of Ethernet and IP networks, including delay, errors and other impairments.
GL's Voice Quality Testing (VQT) product line complements all of GL's products. Using ITU-standard algorithms (PAMS, PSQM, and PESQ), GL's VQT provides a widely excepted solution across the telecom industry. Voice Quality Testing across multiple networks (T1, E1, T3, E3, OC-3, VoIP, Wireless, and Landline) are all available.
GL's Wireless Products perform protocol analysis and voice quality assessment on GSM, CDMA and UMTS networks. Connections can be made to any wireless phone with automated call control, GPS mapping and real-time signal measurements.
GL's Echo Canceller testing solutions provide the broadest range of simulation and analysis, including compliance testing per G.168 and G.160 across TDM, IP, VoIP and Wireless networks. GL's wireless VQT solutions help assessing impairments to voice quality such as poor mobile phone quality, voice compression and decompression algorithms, delay, loss and gain in speech levels, noise, acoustic and landline echo, and other distortions are easily assessed and accurately measured.
GL's Handheld data testers can test a wide variety of communications facilities and equipment including T1, fractional T1, E1, fractional E1, T3 and E3 modems, multiplexers, CSU, DSUs, T1 CSUs, DTUs, NTUs and TIUs and more. The testers provide convenience, economy, and portability for almost any interface, including RS232, RS-422, RS-530, X.21, T1, E1, T3, E3, and many others.
GL's Network Surveillance and Monitoring products include Probes for TDM, IP, VoIP, ATM, and Wireless networks. An open standards based approach provides a scalable, feature rich, real-time access to network intelligence. Centralized or distributed access, efficient transport and database loading allow compatibility with
3rd party and standards based monitoring systems.
###