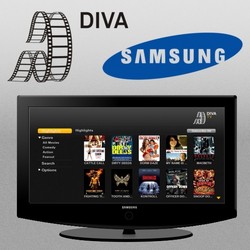 We're excited to be able to bring DIVA's outstanding video-on-demand offer to Samsung HDTV owners via Internet@TV.
(PRWEB) September 8, 2010
Internet@TV users in Germany, Switzerland and the UK will be first to benefit from DIVA TV, with the company optimistic of extending the partnership to cover other territories, including the US, in the coming months.
Robert Franke, Head of Content at DIVA AG, said, "We're excited to be able to bring DIVA's outstanding video-on-demand offer to Samsung HDTV owners via Internet@TV. Our library of content is uniquely-positioned among on-demand entertainment services, presenting handpicked movies and series in a well arranged catalogue that makes it easy for customers to find compelling and unique programs without having to navigate through thousands of irrelevant titles."
DIVA TV brings Day and Date and free content to Samsung Internet@TV users.
DIVA's catalogue adds new movie releases in genres including action, comedy, thrillers and hit TV series. This content will be released Day and Date for Internet@TV users to enjoy on a tVoD basis via the DIVA TV widget. The line up of current titles is complemented with selected, thematically related, movies and series which DIVA usually offers as free aVoD content.
With its inclusion on the Internet@TV platform, DIVA TV brings Samsung owners access to an extensive library that includes popular classic and current Hollywood movies. Diva keeps the platform involving for customers by avoiding the repeat of movies during the year. Approximately 10 percent of the catalogue is refreshed each month, with each title available for a minimum stretch of 3 months.
The Diva widget will also give access to high quality minority content to owners of Samsung HDTVs belonging to expat communities, with the best Turkish, Russian and Arabic movies and drama series available for viewing.
About Diva (http://www.diva.pro / http://www.diva.tv)
Founded in 2007, DIVA is a leading supplier of movies, TV series and short form contents, supplying video on demand platforms and connected devices globally. DIVA's customers are over-the-top platforms, IPTV operators and device manufacturers in Asia, Europe, Middle East and the USA. The content focus is on award-winning films, true classics and genre content. Content management, normalisation, secure delivery and reporting are handled by DIVA's proprietary software platform. Privately held Diva AG is based in Zurich, Switzerland with offices in San Jose, Berlin, New York, Rome and London.
Contact
Nelly Kaufmann
Head Of Channels
nelly . kaufmann [at] diva . pro
Tel +41 44 586 66 71
###