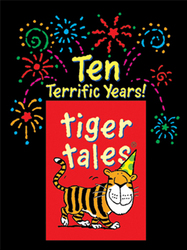 Tiger Tales' continued success has been the result of a focus on creating quality books in consumer-friendly formats and making them available at a fair price to the customer.
Wilton, CT (PRWEB) September 14, 2010
Tiger Tales today launched a new content-rich web site that allows readers of its popular line of children's picture books to interact with the books' publishers, authors, illustrators, and other readers.
The site marks the company's tenth anniversary creating books that appeal to parents and children alike because of their strong blend of editorial content, illustration and design. The company is taking a community-focused approach to the new site, incorporating an active blog that tackles issues and news affecting the children's book industry and young readers in general, as well as components that allow readers to post ratings and reviews of Tiger Tales titles.
"While many publishers continue to struggle, Tiger Tales has had a continuous string of double digit sales increases, even while industry sales of children's books have actually decreased," said Elisabeth Prial, founder and publisher, Tiger Tales. "And we've accomplished this by nurturing new and talented authors and illustrators -- proof that you can build a profitable publishing business without relying on costly celebrity authors."
The company's continued success has been the result of a focus on creating quality books in consumer-friendly formats and making them available at a fair price to the customer. Tiger Tales distributes its books through a wide range of outlets that include traditional bookstores, retail chains, mass merchandise accounts, school book clubs and fairs, school and public libraries, and warehouse clubs.
Tiger Tales paper and ink books successfully compete with children's books from traditional publishers such as Random House, Simon & Schuster, Penguin/Putnam, Houghton, and Scholastic.
The company is also taking the books customers already love and making them available to new generations of readers growing up in a world of glass screens.
To do that, Tiger Tales also announced a partnership with MyTales Digital to bring popular Tiger Tales titles to the iPhone and iPad. The new venture makes select titles from the company's library available to parents, grandparents, teachers, librarians and home schoolers in a medium with which children are increasingly familiar. The first applications introduced by MyTales Digital are three traditional lullaby books adapted from the richly illustrated Tiger Tales books of the same titles: Hush, Little Baby: a Read-a-Long; Sing-a-Long Lullaby; Sleep, Baby, Sleep: a Read-a-Long, Sing-a-Long Lullaby; and Rock-a-bye Baby: a Read-a-Long, Sing-a-Long Lullaby.
The Tiger Tales titles adapted for the iPhone and iPad are designed to provide a very personal experience between adult and child. Through MyTales Digital, these first Tiger Tales apps offer read-a-long and sing-a-long options and enable users to record multiple voices -- a feature the company expects to be extremely popular with parents and grandparents.
"It was important to us, based on our own experiences over the past decade, to preserve and enhance an age appropriate picture book reading experience," said Prial. "After studying many applications for children and finding a limited quality and focus, we looked for a more natural evolution toward book applications, believing a quality picture book can, and should, be adapted to any delivery device, be it paper and ink or digital."
About Tiger Tales
Tiger Tales is owned and operated by women who know what young children want to read. With a staff of only five, the company has over 75 years experience in the children's book industry and have raised a total of 11 children (and assorted dogs, cats, cows and chickens).
The company was founded in 2000 by publishing industry veteran Elisabeth Prial. To establish her business quickly, Elisabeth purchased exclusive rights to publish children's books from foreign companies in North America. Within the first year of her business, tiger tales had 50 books published with placements in key book retailers and wholesalers nationwide. Tiger Tales publishes unique original children's books as well as select books created by publishers overseas. There are approximately 160 active titles in the tiger tales list and it grows by about 25 additional books a year.
On the Web:
http://www.tigertalesbooks.com
http://www.mytalesdigital.com
On Facebook:
http://www.facebook.com/pages/Wilton-CT/tiger-tales/183496001305
On iTunes:
Hush, Little Baby: a Read-a-Long, Sing-a-Long Lullaby
http://itunes.apple.com/us/app/hush-little-baby-read-long/id370073621
Sleep, Baby, Sleep: a Read-a-Long, Sing-a-Long Lullaby
http://itunes.apple.com/us/app/sleep-baby-sleep-read-long/id375680318
Rock-a-Bye Baby: a Read-a-Long, Sing-a-Long Lullaby
http://itunes.apple.com/us/app/rock-bye-baby-read-long-sing/id377694922
# # #