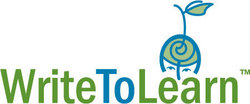 Boulder, CO (PRWEB) September 8, 2010
With the recent launch of the Common Core Standards for K-12 education and their rapid adoption by states around the country, schools and districts are investigating new strategies for putting students on the path to building the reading and writing skills necessary to meet the demands of college and careers by high school graduation. Today's launch of WriteToLearn™ 6.0, the newest version of Pearson's complete online tool for building writing skills and developing reading comprehension, puts an even more powerful tool for developing 21st century literacy skills at students' and teachers' fingertips.
With WriteToLearn, students develop essay-writing and summarization skills, and their efforts are measured by Pearson's state-of-the-art Knowledge Analysis Technologies™ (KAT) engine. The KAT Engine is a unique automated assessment technology that evaluates the meaning of text, not just grammatical correctness or spelling. This proven technology delivers the accurate, consistent and immediate, quality feedback that is necessary for academic success. In addition, WriteToLearn's automated scoring allows teachers more time for teaching and lesson planning. Students develop confidence and skills to improve their literacy levels and test scores.
"State and national school improvement initiatives are putting an increased emphasis on the critical importance of ensuring that all students build strong writing and reading-comprehension skills so they can compete in our increasingly global society," said Lynn Streeter, president of the Knowledge Technologies group of Pearson, developer of WriteToLearn. "With its enhanced reporting features and increased opportunities for student feedback, WriteToLearn is truly the right solution for schools and districts involved in improvement and reform efforts focusing on the development of literacy skills."
The new student performance reports in WriteToLearn 6.0 provide administrators with critical information to make informed decisions about current and future performance. The enhanced reports offer insights into the amount of time that students and classes are using WriteToLearn and the progress they are making.
To help schools meet the needs of struggling readers and English Language Learners, WriteToLearn 6.0 now features expanded text-to-speech capabilities. Using Texthelp System's embedded reading support technology, SpeechStream, students can have reading passages, essay feedback and their own writing read aloud to them. The text-to-speech feature allows students to gain a deeper understanding of the writing development process and where they need to focus their efforts in future drafts.
Grammar-checking capabilities in WriteToLearn have also been expanded, providing students with more feedback on errors.
Schools and districts with current WriteToLearn accounts will receive the update free of charge. WriteToLearn is available for purchase on a concurrent or individual student license basis, with district-level subscriptions now available.
WriteToLearn qualifies for federal funding under the American Recovery and Reinvestment Act. For more information, visit http://www.School.WriteToLearn.net.
About Pearson
Pearson (NYSE:PSO), the global leader in education and education technology, provides innovative print and digital education materials for preK through college, student information systems and learning management systems, teacher licensure testing, teacher professional development, career certification programs, and testing and assessment products that set the standard for the industry. Pearson's other primary businesses include the Financial Times Group and the Penguin Group. For more information, visit http://www.pearson.com.
For more information, press only:
Adam Gaber, Pearson, 800-745-8489, adam(dot)gaber(at)pearson(dot)com
Lisa Wolfe, L. Wolfe Communications, 773-227-1049, lwolfe(at)lwolfe(dot)com
###