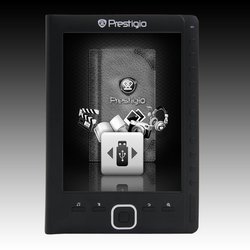 "Our impression is -- Great! The Possibility of saving hundreds of thousands of ebooks on such portable device gives you a new quality of your life…" Benchmark.rs
Limassol, Cyprus (PRWEB) September 15, 2010
PrestigioPlaza.com, an international IT and gadget online shop offering only the finest services and products from the world best known and exclusive brands, has received a first model of new series of PRESTIGIO e-book readers.
PRESTIGIO Libretto PER3162B e-book reader is an ultra portable device fitting thousands of books in your pocket, making it a perfect solution for book lovers. Only 9 mm in depth and weighting 170 grams, it features a spacious 6 inch (15.3 cm) high quality e-Ink display, which gives a feeling of reading an ordinary book. A long battery life allows you to read up to 4000 pages on one battery charge, so you can take it with you anywhere you like. Whether it is a business trip, a lazy Sunday afternoon on the beach or at home, PRESTIGIO Libretto will be your portable companion always carrying your favorite library with you.
In addition to number of text formats that it supports, this E-book reader also has an Audio Player which allows you to enjoy music while reading as well as to listen to audio books, and a Picture Viewer to show pictures in modern black/white color. A user friendly menu in 8 languages makes the navigation easy and comfortable, while 2 GB internal memory gives the possibility to keep a vast amount of information and even expand it up to 32 GB using the Micro SD card slot. PRESTIGIO Libretto is a way to enrich your knowledge.
Apart from the advanced technology and innovative ideas, PRESTIGIO Libretto e-book reader also has a stylish design and comes together with a leather carrying case and stereo headset. What's more the ultra-low power consumption and reduction of use of paper books makes PRESTIGIO Libretto a product for green planet.
PRESTIGIO Libretto PER3162B is now available at PrestigioPlaza.com for a retail price of €229.
Watch Product Presentation HERE
About PrestigioPlaza.com
PrestigioPlaza.com is an international online shop offering a convenient and secure e-shopping for only the finest goods and services of the most famous brands as well as exclusives. Its product range encompasses IT-related products, consumer electronics and gadgets in all price categories to consumers and small businesses across EMEA region. PrestigioPlaza.com belongs to and managed by Prestigio Plaza Ltd, a Cyprus based company, a part of Prestigio group. For more information visit the company's website http://www.prestigioplaza.com
About Prestigio
Prestigio is a fast-growing, well-established brand that is sold in more than 40 countries with headquarters in Cyprus. It offers an exclusive combination of elegance, sophistication, high product quality, advanced technology and state-of-art design. Prestigio aims to provide an enhanced quality of life with affordable luxury IT-related products and consumer electronics to those who enjoy a contemporary lifestyle. For more information visit the company's website http://www.prestigio.com.
###