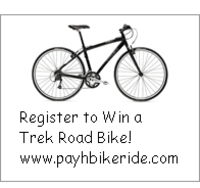 Changing lives is the main reason for the Paul Anderson Cycling Challenge. This year's participants will always remember what they accomplished during these six days.
Vidalia, GA (PRWEB) September 13, 2010
A seventeen year old with 32 felonies became a supervisor in Loss Prevention with a Fortune 500 company. A homeless felon became a successful restaurant franchise owner with a Master's degree. A suicidal drug abuser became an outstanding family, business, and church leader— Paul Anderson Ministries…Touching Families, Changing Lives.
Since 1961 the PAYH has provided an alternative to incarceration and a "home" to over 1000 young men while nurturing and encouraging their families. As part of the rehabilitation process, Paul Anderson Ministries offers opportunities for young men to participate in events such as the Paul Anderson Cycling Challenge. This 500 mile fund-raising bike ride through Georgia teaches perseverance, discipline, teamwork, and endurance.
Changing lives is the main reason for the Paul Anderson Cycling Challenge; this year's participants will never be the same. The ride is scheduled to begin on October 1st in Atlanta, Ga., pass through Gadsden, Al., Chattanooga, Tn., Gainesville, Ga., Macon, Ga., and return to Vidalia on October 7th. The team will provide blogs, stories, and videos along the way. Speaking engagements have been planned at churches and civic clubs to raise awareness of the ministry's efforts to help families through placement, resources, counseling, and referrals.
To sponsor a rider or make a contribution to the Paul Anderson Cycling Challenge, go to http://www.payh.org/bikeride While online, register for a chance to win a Trek road bike. Entries will be received through October 20th.
Blogs, video and audio coverage can be found at http://www.payh.org/bikeride.
About Paul Anderson Youth Home:
The Paul Anderson Youth Home (PAYH) is a residential home providing Christian rehabilitation for young men seeking an alternative to incarceration. Continuing the mission set by PaulAnderson and his wife Glenda in 1961, the PAYH seeks to teach our young men that they are created by God and have a special purpose in life. We believe that young men with self-confidence and Christian character will become "givers" rather than "takers," assets rather than liabilities. The PAYH also provides help for parents of troubled teenagers, through resources, counseling, and referrals.
Our unique program is designed to develop each young man spiritually, mentally, physically, emotionally, and socially. A typical day combines Biblical teaching and academic training in our accredited high school, while incorporating physical fitness, emotional development, and social awareness as well as instilling a strong work ethic.
Our staff provides over 250 combined years of experience ministering and counseling young men and their families.
The PAYH specializes in character building, which is evident in our over 90% success rate. The low recidivism rate of PAYH alumni is attributed to our unique program as well as continued support from the PAYH after graduation.
The PAYH is a Christian charity. To ensure the PAYH's Christian foundation is not jeopardized, government funds are not accepted. We depend on the support of individuals, corporations, organizations, churches, and foundations who partner with the PAYH to provide a second chance for the young men and their families which are entrusted to this ministry. To support the PAYH you can donate online, participate in our annual Golf Classic, make purchases from our product lines, select from our planned giving opportunities, or by partnering in prayer. For more information on tax deductible giving opportunities please contact us at rebecca(at)payh(dot)org or 1-800-559-PAYH (7294)
###