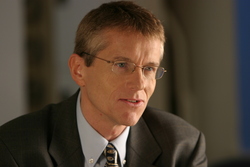 The UK is at the start of precisely the kind of economic recovery most likely to put employee engagement to the test – sufficient momentum to create job opportunities for talented individuals but too weak to enable employers to hike financial reward
(PRWeb UK) September 8, 2010
John Philpott, Chief Economic Adviser at the Chartered Institute of Personnel and Development will deliver a keynote speech at a Common Purpose and Changeboard event on 16 September 2010.
The breakfast event is for senior level human resources, talent, learning and development, and CSR professionals who will have the opportunity to explore key issues in the labour and talent market, and the vital elements of employee engagement and retention in a post-recession economy.
"The UK is at the start of precisely the kind of economic recovery most likely to put employee engagement to the test – sufficient momentum to create job opportunities for talented individuals but too weak to enable employers to hike financial reward," says John Philpott. "This will place an even higher premium on using employer brand, vision and values as means of retaining high performers. In the post crash economy the war for talent must be fought in new ways, with hearts and minds engagement to the fore."
Following John Philpott's keynote speech, Matthew Jeffrey, Global Director Employer Brand, Electronic Arts will set the scene for participants on the topics of employee brand and engagement.
Participants will workshop these issues with a line-up of expert contributors including John Philpott, Matthew Jeffrey, Professor Chris Bones, Dean at Henley Business School, Peter Lockyer, Assistant Director, ACAS, Liz McKeown, Deputy Director, Analysis and Insight, Cabinet Office and David Neita, Barrister and Poet.
"When employees feel they have a sense of meaning from the organisation they work for, or that organisation helps them discover their own, they are likely to stay around and this will give organisations their competitive edge in the future," said Oliver Mack, Head of Learning & Development at Common Purpose. "Participants will explore this proposition with experts from a range of sectors and discuss how meaning is created in their organisation, and what it means for employee engagement and leadership."
The event will take place from 8am to 10am at St Ethelburga's Centre for Peace and Reconciliation in London on Thursday 16 September. There is no charge to attend and breakfast pastries and refreshments will be provided.
Ends.
Notes to editors
About Common Purpose:
Common Purpose is an independent international leadership development organisation. Over the past 21 years, Common Purpose has designed and delivered courses that help people at all stages of their career become more effective leaders in society.
Common Purpose's belief is that society benefits from people of all ages, backgrounds and cultures working together to help guide and shape the future of their organisations and communities. Common Purpose achieves this by running courses that provide unique insight into how leaders from the public, private and not-for-profit sector tackle day-to-day challenges in cities around the world.
Common Purpose courses run throughout the year and each course varies in length and content. Participants learn through experience rather than in a classroom, by meeting leaders they would never otherwise meet and seeing how leadership operates in places they would never otherwise visit.
There are 30,000 Common Purpose alumni around the world and over 3,000 people complete a Common Purpose course every year. Various organisations, including 70% of FTSE 100 companies, have chosen Common Purpose courses to develop the leadership capacity of their people. To attract the widest range of potential participants from a diverse range of backgrounds, Common Purpose provides around 600 bursaries a year for those who could not otherwise afford to attend.
Common Purpose is a not-for-profit organisation and is registered with the Charity Commission in the United Kingdom. The organisation operates in France, Germany, Ghana, Hungary, India, Ireland, South Africa, Sweden, the Netherlands, Turkey and the UK. Common Purpose will launch in Hong Kong in August 2010.
For further information on Common Purpose, visit: http://www.commonpurpose.org
About Changeboard:
Changeboard is a global job site dedicated to helping HR, recruitment and training professionals find their perfect job and get ahead. We've got thousands of specialist human resources jobs, recruitment jobs, training jobs, and learning and development jobs, and hundreds of guides, videos and articles to give you the insights you need to be successful in your career.
For further information on Changeboard, visit: http://www.changeboard.com
About John Philpott:
John Philpott is Chief Economic Adviser at the Chartered Institute of Personnel and Development (CIPD). He has a Doctorate from the University of Oxford (completed in 1984) and is Visiting Professor of Economics at the University of Hertfordshire, where he originally worked as an academic Research Fellow from 1984 – 1987.
From 1987 – 2000 John was Director of the Employment Policy Institute (EPI), an independent policy think-tank. During the last recession in 1991 – 1992 he was also acting director of The Campaign for Work. He joined the CIPD as Chief Economist in November 2000 before taking up his current expanded appointment in December 2008.
John's research and publications have covered labour market trends, long-term unemployment, welfare-to-work, full employment, employability, productivity, minimum wage setting, migration, the euro and Social Europe. He is a regular media commentator and platform speaker on these issues, and writes related articles for the national press. John also writes a blog for the CIPD website and the People Management magazine website.
John is a former Specialist Adviser to the House of Commons Select Committee on Employment (from 1993-1996) and (in 2007) the House of Lords EU Select Committee. He has also advised numerous other UK and international bodies, including several UK government departments, the United Nations, the European Commission, the IMF and the OECD.
John is a Fellow of the RSA and a member of the Society of Business Economists.
###